Suffering from cartilage injuries at your knee? If you are suffering from this problem, then feel free to book an appointment online to get treated by one of the best orthopaedic doctors.
What is cartilage?
Cartilage is a smooth structure that lines synovial joints like the Shoulder / Elbow / Knee & Hip. It allows painless and frictionless movement of the joint.
How to cartilage injuries/ defects occur ?
Age- Wear and tear
Twisting injuries of the knee -Associated with ligament injuries
Repetitive microtrauma- as in runners
Spontaneous – in some rare disorders like Ostochondritis dessicans, Spontaneous osteonecrosis of the knee (SPONK)
Cartilage has little or no potential to recover , hence in cases of significant cartilage defects, some form of surgical intervention is required .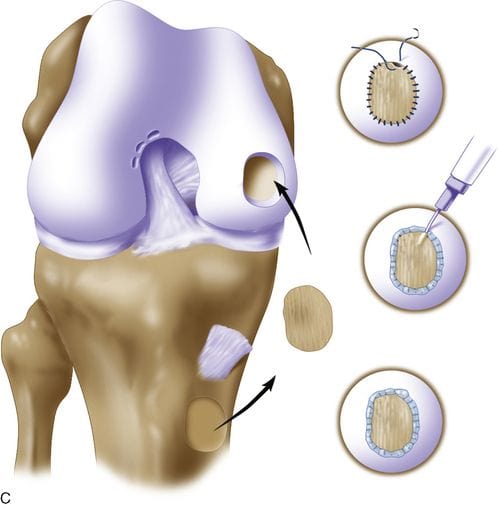 Debridement and chondroplasty
This is the most basic of all cartilage procedures and involves cleaning up the joint of loose pieces of cartilage and derby, smoothing frayed out cartilage. It is generally done in wear and tear / early knee arthritis.
Microftacture
Micro fracture is done in small sized cartilage defects . This relies on the principal that bone marrow has healing factors which can aid in cartilage healing . Multiple small holes are drilled in the area of cartilage injury which lead to formation of a super-clot which has healing factors. A cartilage like layer is produced over a period of weeks.
Microfracture is probably the most common cartilage procedure done currently and is usually done in association with other surgical procedures.
OATS (Osteochondral Autologus Transfer)
In this procedure cartilage is taken from a non weight bearing portion of the knee joint and transplanted back into the knee of the same person. This is the only cartilage reparative procedure which provides for normal cartilage in comparison to other procedures which generate cartilage like substance .
Autologus Chondrocyte Implantation
Autologus chondrocyte implantation is two stage procedure in which the cartilage cells from an individual are harvested in the first stage and cultured in lab. They are re-implanted after 6 weeks in the area of the cartilage defect.
Since it is a two stage procedure, it is generally reserved for younger athletes or those with areas of significant cartilage loss
Dr. Aditya Sai is a renowned surgical orthopedic doctor practising in Mumbai. He has 15+ years of experience, with 10+ years of specialization in Shoulder Surgery, Knee & Hip Arthroscopy And Joint Preservation.
Book an appointment with us today