Fractures Around The Shoulder
Suffering from shoulder fracture? If you are suffering from this problem, then feel free to book an appointment online to get treated by one of the best orthopaedic doctors.
Fractures Around The Shoulder
Fractures around the shoulder
Shoulder fractures involve at least one of three bones in the shoulder: the scapula (shoulder blade), clavicle (collarbone), or humerus (upper arm bone). All three types of fractures can cause shoulder pain, swelling, tenderness, and limit the shoulder's range of motion, but there are also significant differences.
Collarbone Fractures 
Fractures of the collarbone are one of the most common fractures of the upper limb .
Symptoms
Sustained due to fall on outstretched hand
Pain
Deformity over collarbone
Swelling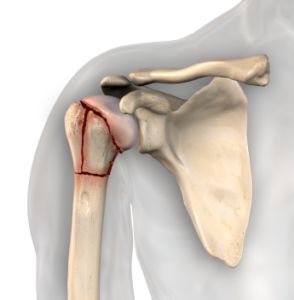 Generally these are benign injuries, but may be associated with injuries to one or more nerves in the upper limb.
Home Care
Apply a sling and swathe to support the upper extremity.
Ice application
Visit a shoulder specailist.
Rx
Majority of these fractures can be managed non operatively , however in active individuals, those associated with other injuries , significant displacement, ligamentous injuries a surgical option consisting of fixation with plates and screws may be considered.
Clavicle fracture
Shoulder Fracture / Proximal humerus fractures/ Humeral head fractures
Proximal Humerus fractures are common in the Geriatric age group due to trivial falls , however they may also occur in younger active individuals due to high velocity trauma.
They are worrisome injuries as in these fractures the rotator cuff tendons are avulsed off with bone and if not treated properly can lead to loss of movement and pain around the shoulder . Also these injuries carry a risk of loss of blood supply to the humeral head .
Symptoms
Sustained due to fall on outstretched hand
Pain
Bruising over the shoulder/ Arm
Swelling
Home Care 
Wear a sling and swathe
Ice Application
Rx
Visit a surgeon specialising in shoulder surgery.
Treatment depends on 
Fracture displacement
Age of individual
Activity level
Treatment ranges from non-operative to Operative in form of plate fixation, Jack up arthroplasty or a shoulder replacement . A discussion with the shoulder specialist will help you in this regard.
A shoulder fracture dislocationA shoulder fracture dislocation
Post Fracture Fixation with platePost Fracture Fixation with plate
Jack Up Arthroplasty
Post Fracture Fixation
Reverse Shoulder Arthroplasty
Scapular Fracture : these are relatively rare injuries , however they are generally seen in the setting of poly trauma/ multiple injury . Also may be associated with rib fractures /nerve injuries.
It is important to treat these injuries in a territory care setup and multidisciplinary approach.
Dr. Aditya Sai is a renowned surgical orthopedic doctor practising in Mumbai. He has 15+ years of experience, with 10+ years of specialization in Shoulder Surgery, Knee & Hip Arthroscopy And Joint Preservation.
Book an appointment with us today