Consult The Best Ligament Surgeon In Mumbai
Why Choose Dr. Aditya Sai?
Consultant Orthopedic Surgeon
Dr. Aditya Sai is a consultant in Orthopaedics specializing in Shoulder Surgery, Knee and Hip arthroscopy & Joint preservation Dr. Aditya has been trained in the best of the institutes in India as well as globally, with his MBBS from the Madras Medical College and MS in Orthopedics from Seth GS Medical College & KEM hospital, both amongst the top institutes in the country. He has undergone training in Hip arthroscopy and Joint preservation from the USA.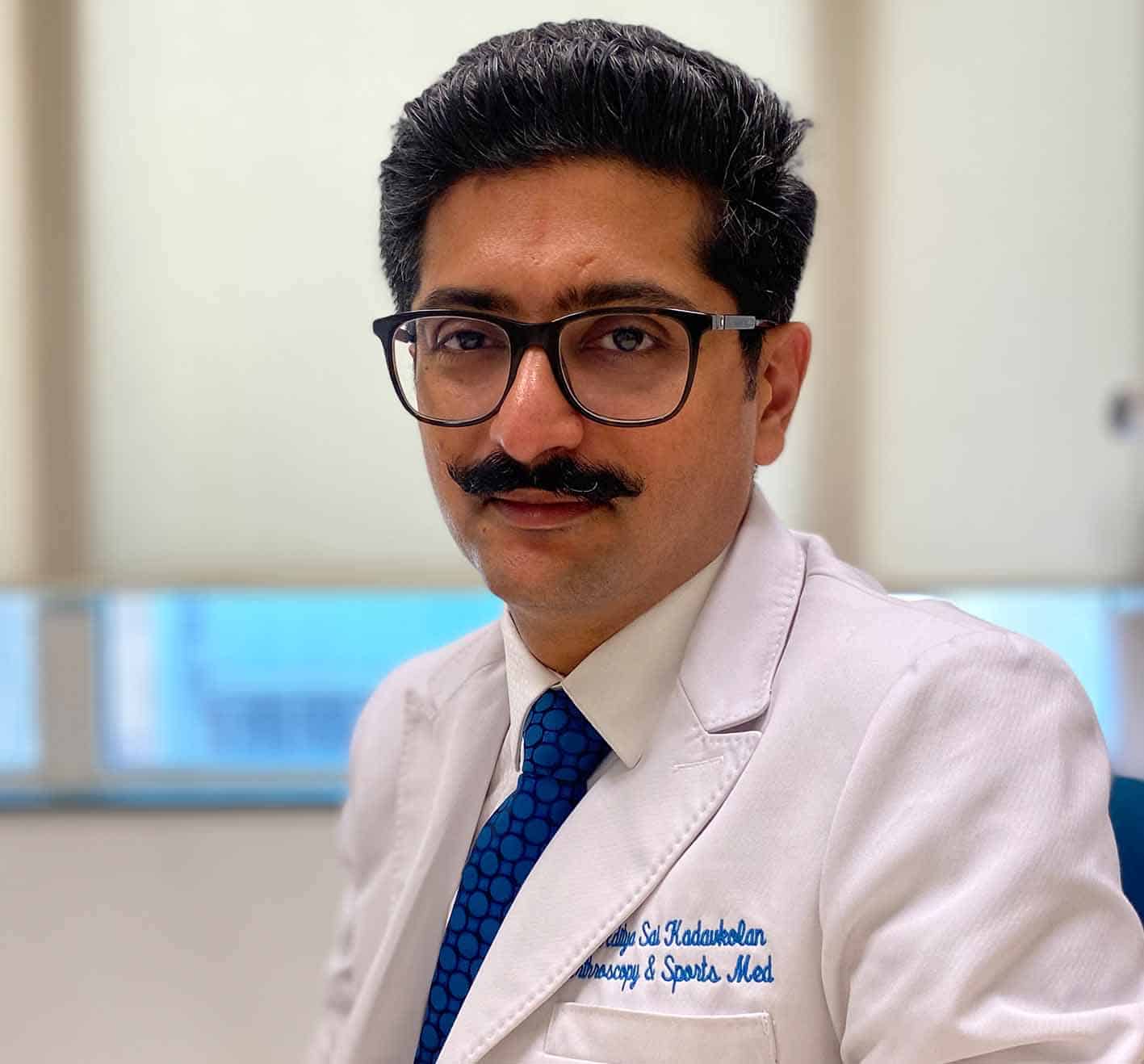 Book an appointment with us today
I went to Dr Aditya Sai at Shoulder and Knee Clinic, Mumbai. He is indeed one of the best ligament surgeons in Mumbai. I got the treatment for my knee's ligament tear and felt much better, thanks to him.
Kritika Sisodiya
If you are looking for a ligament specialist in Mumbai, I highly recommend you to visit Dr Aditya Sai. He is indeed the best orthopaedic surgeons in Mumbai. He treated my mother, and she feels proud that she is able to walk without pain.
Mamta Sinha
I went to Dr Aditya Sai for my knee ligament surgery, and his hospital offers the most affordable and cost-friendly knee ligament surgery cost in Mumbai. Thanks to Dr Aditya, I was able to undergo the treatment without punching a hole in my finances.
Joseph R
Dr Aditya Sai is one of the best doctors for ligament tear in Mumbai. He treated my neck sprain, and my condition is much better now.
Manju Pawar
After injuring my knee in a fall, I was unable to do intensive high-intensity training. After much research online, I found Dr. Aditya Sai. After examining me and reviewing my diagnostic reports, he recommended ligament reconstruction. His explanation of the problem and the solutions gave me confidence that I was in good hands. He even explained the post-operative care clearly, and assured me that he would continue to assist me if I needed it. Surely the best ligament surgeon in Mumbai!
Muhammad Qamar Shafiq
Dr Aditya Sai is the best doctor for ligament tear in Mumbai. I would highly reecommend Shoulder And Knee Clinic for your teatment as it is the best in Mumbai.
Sandhya Sinha
Dr. Aditya's advice and treatment plan were fantastic, he has a great surgical team and everything went according to plan with my ligament surgery. I would have no hesitation in recommending him. Dr. Aditya is the best ligament surgeon in mumbai
Ganesh Bhore
Due to my sports career, there are more chances of me getting an injury. Recently I had a ligament tear and wanted to consult the best ligament surgeon in Mumbai. Thank you Dr Aditya for being of great help to me.
Chinmay Tyagi
I believe he is one of the finest ligament specialists in Mumbai from his excellent treatment, investigation mind, curiosity, and ability to connect, you know where you stand immediately and what the next steps look like God give more power to him to save more people and help them.
Praveen Kadam
While playing football with my friends, I happened to tear my knee ligament. Knee ligament surgery cost in Mumbai was very much reasonable at Dr Aditya. He and his team did a splendid job to bring me back to recovery.
Suraj Pevekar
I was searching for the best doctor for ligament tear in mumbai I became acquainted with Dr Aditya is the best specialist in Mumbai best help and a very much cleaned machine.
Ashwin Ketkar
Dr. Aditya is the best doctor for ligament tear in Mumbai and I am saying this from my own personal experience as I had met with an accident and my ligament got torn. The doctor advised me well and the staff was very supportive and friendly.
Subhash Tripathi
Excellent staff and stupendous service. I can highly recommend it as Dr. Aditya Sai is the best ligament surgeon in Mumbai. My medical care was impeccable and most importantly, successful.
Sumit Dhoni
Dr. Aditya is the best ligament surgeon in Mumbai. I was badly injured during my football match. I thought I would never be able to walk again. I am very appreciative of what he has done to help my legs heal after a ligament surgery. Highly recommended!
Kunal Tripathi
I was suggested to do my ligament tear treatment and I was in search of the best doctor for ligament tear in Mumbai. I feel much better now and I am glad I took this decision.
Vikas Nair
As per my experience Dr Aditya is the best doctor for ligament tear in Mumbai. Dr Aditya personally handle my case and took care of me until I was up and running.
Varun Ghoshi
I wanted to accomplish knee ligament surgery my aunt recommended to visit Dr Aditya as he is a good doctor and in addition, their knee ligament surgery cost in mumbai is extremely affordable.
Mihir Jain
I was having a shoulder problem and was finding a specialist who could fix it and Dr Aditya was for it. He is the best ligament specialist in Mumbai.
Aliyah Jordan
Hear It From Our Patients!
What People Say About Dr. Aditya Sai
Doctor service: Highly knowledgeable and experience Dr's team for complete surgery and very much happy and satisfied with work till now in Hiranandani Hospital PowaiSpecial Thanks to Dr Aditya Sai Kadavkolan : 100 out of 100 marks for his knowledge , experience , state of mind during surgery and vision of futuristic any concerns for surgery…Highly and strongly recommended this Dr Aditya Sai for knee surgerySTONRGLY RECOMMENDED Dr Aditya SaiTHANKS A TON !!! Dr for such wonderful journey with you of surgery , really it was went well and going well with wife.Extremally happy & lucky to have you and chosen you for my wife surgery of ACL reconstruction...Now words to thank you and your team!!!!!!!!You have saved my wife life and retained her dreams of dancer and sports person !!!!!Last but not least : Dr Sagar assistant to Dr Aditya Sai for excellent link between patient relative and Hospital and Desk and Surgery team and Dr Aditya Sai and Discharge desk etc , without him it would not have been possible such a pleasant surgery for my wife
I had torn my labrum because of which I was facing frequent shoulder dislocations and they were really painful. I decided to get it fixed because I am physically active and involved in sports.I visited Dr. Aditya, he explained me everything in great detail about the procedure. The surgery was a major one and went on for hours. He did the surgery brilliantly and after rehabilitation I started physical activities and there are no dislocations anymore. Thanks Dr. Aditya 😊
I had undergone surgery for complex fracture fixation (left distal end radius fracture ) done by Dr Aditya Sai. He rightly advised and explained everything what's to be done. His friendly nature with professionalism give lot of comfort to me during surgery and recovery period. His staff was also good and even make a call post discharge from hospital for my well being . I'd like to thank him and all his staffs
aditya kumar anshu
02/04/2023
Dr. Aditya Sai is a brilliant doctor and gem of a person for sure. I underwent ACL reconstruction and meniscus repair for my right knee by him 3 months back. He explained the procedure in detail and very clearly before surgery although I had done fair amount of research myself but the best thing was he gave me confidence for it. His full team was supportive throughout the procedure and post surgery too. I have been in constant consultations with him for three months as he is monitoring my progress during physiotherapy. I am very happy to tell that my progress is very good. Hopefully I am expecting to join sports very soon. I highly recommend him to anyone and thanks his whole staff for taking a very good care of me.Aditya Anshu Suptdg. Geo scientist at ONGC Ltd.
My Mother had multiple fractures in Shoulder and had to undergo Shoulder replacement surgery.. We are happy with the way process was explained to us and guidance provided by the Doctor.
I went through my ACL ad meniscus surgery few months ago ..it was four year past injury..was very broken in life.. thanks to Dr Aditya Sai who gave me confidence and repaired my knee and gave a new life..i recovered within two months..I bless dr.sai for his brotherly caring during my OPD visits and time of surgery...I highly recommend to all...GOD BLESS WITH SUCCESS AND PROPERTY TO HIM AND HIS FAMILY
Dr. Aditya Sai did a great job with my first ever surgery. He explained everything to me in a very clear manner. He was also kind and friendly. All of the staff was great – they were helpful and patient.They ensured I had a smooth prep, surgery, and follow-up. Not only has he taken great care of me, but also he is lovely to speak with at every appointment. It's been over 7 weeks post surgery and from last one week I'm able to walk without the support of walker. I was a bit nervous before the surgery,he gave me confidence and mental support after the surgery I was in pain but talking to him when he comes to visit was my favourite part. I'd highly recommend him to anyone. I'd like to thank him and all his staffs.❤️ Thank you
I wanted to take a moment to express my sincere appreciation for the exceptional care provided during my recent knee surgery. Dr Aditya Sai's expertise and dedication made all the difference in my successful outcome. I am so grateful for Dr Aditya Sai's caring and compassionate approach to my care. His willingness to listen to my concerns and answer my questions made me feel supported and reassured throughout the process I am now on the road to recovery and feeling better than ever. I truly believe that my successful outcome would not have been possible without his expertise and commitment to excellence. I will always be grateful for the care provided and will happily recommend Dr Aditya Sai's to others in need of an excellent orthopaedic surgeon.
I had visited Dr Aditya Sai for my ACL reconstruction and Meniscus Repair. I had visited numerous doctors in the Mumbai and Thane region but none could clear my doubts and provide me the confidence to proceed with the surgery until I met Dr Aditya and his team. Will always be grateful to him.
Dr. Aditya Sai is a renowned surgical orthopedic doctor practising in Mumbai. He has 15+ years of experience, with 10+ years of specialization in Shoulder Surgery, Knee & Hip Arthroscopy And Joint Preservation.
Types Of Treatments Offered By Dr. Aditya Sai
Dr. Aditya specializes in problems of shoulder, hip and knee. These are the following types of treatments that the doctor provides.
Frequently Asked Questions
Book an appointment with us today