Suffering from snapping pain at the front of your shoulders? If you are suffering from this problem, then you might be suffering from a biceps tendon disorder. Feel free to book an appointment online to get treated by one of the best orthopaedic doctors.
The biceps is one of the flexors of the elbow . There are two parts of the biceps origin. The long head of biceps that originates in the shoulder joint , whilst although had debatable function causes a number of disorders and is an important pain generator in various shoulder disorders.
Biceps tendon can cause pain and snapping in the shoulder in a number of disorders:
SLAP tears
Biceps tendinitis
Rotator cuff tear
Adhesive capsulitis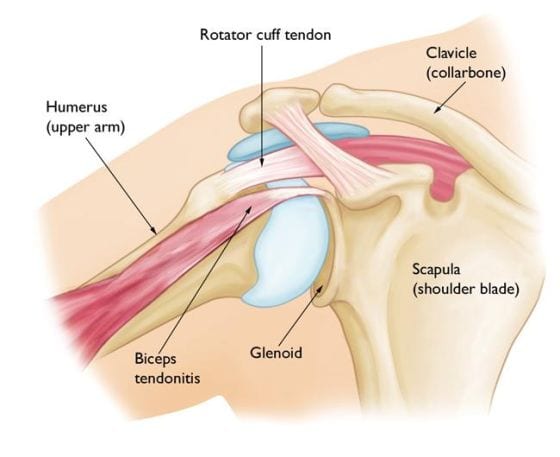 Symptoms 
Pain in front of the shoulder joint
Snapping /positional pain.
Treatment
Initial treatment is with physical therapy , icing and NSAIDS.
Steroid injections can help in pain relief
If there is no symptomatic relief despite injection surgical intervention in form of arthroscopic procedures may be considered.
Tenotomy : The biceps is cut and left as it is , it is generally used in individuals above 50 with lesser functional demands. Does not lead to a significant strength loss and offers good pain control.
Tenodesis: May be considered in younger individuals who have higher demands , wish to lift heavier weights.
Dr. Aditya Sai is a renowned surgical orthopedic doctor practising in Mumbai. He has 15+ years of experience, with 10+ years of specialization in Shoulder Surgery, Knee & Hip Arthroscopy And Joint Preservation.
Book an appointment with us today