Consult The Best ACL Surgeon In Mumbai
Why Choose Dr. Aditya Sai?
Why Choose Dr. Aditya Sai?
Consult The Best ACL Surgeon In Mumbai
Why Choose Dr. Aditya Sai?
Consultant Orthopedic Surgeon
Dr. Aditya Sai is a consultant in Orthopaedics specializing in Shoulder Surgery, Knee and Hip arthroscopy & Joint preservation Dr. Aditya has been trained in the best of the institutes in India as well as globally, with his MBBS from the Madras Medical College and MS in Orthopedics from Seth GS Medical College & KEM hospital, both amongst the top institutes in the country. He has undergone training in Hip arthroscopy and Joint preservation from the USA.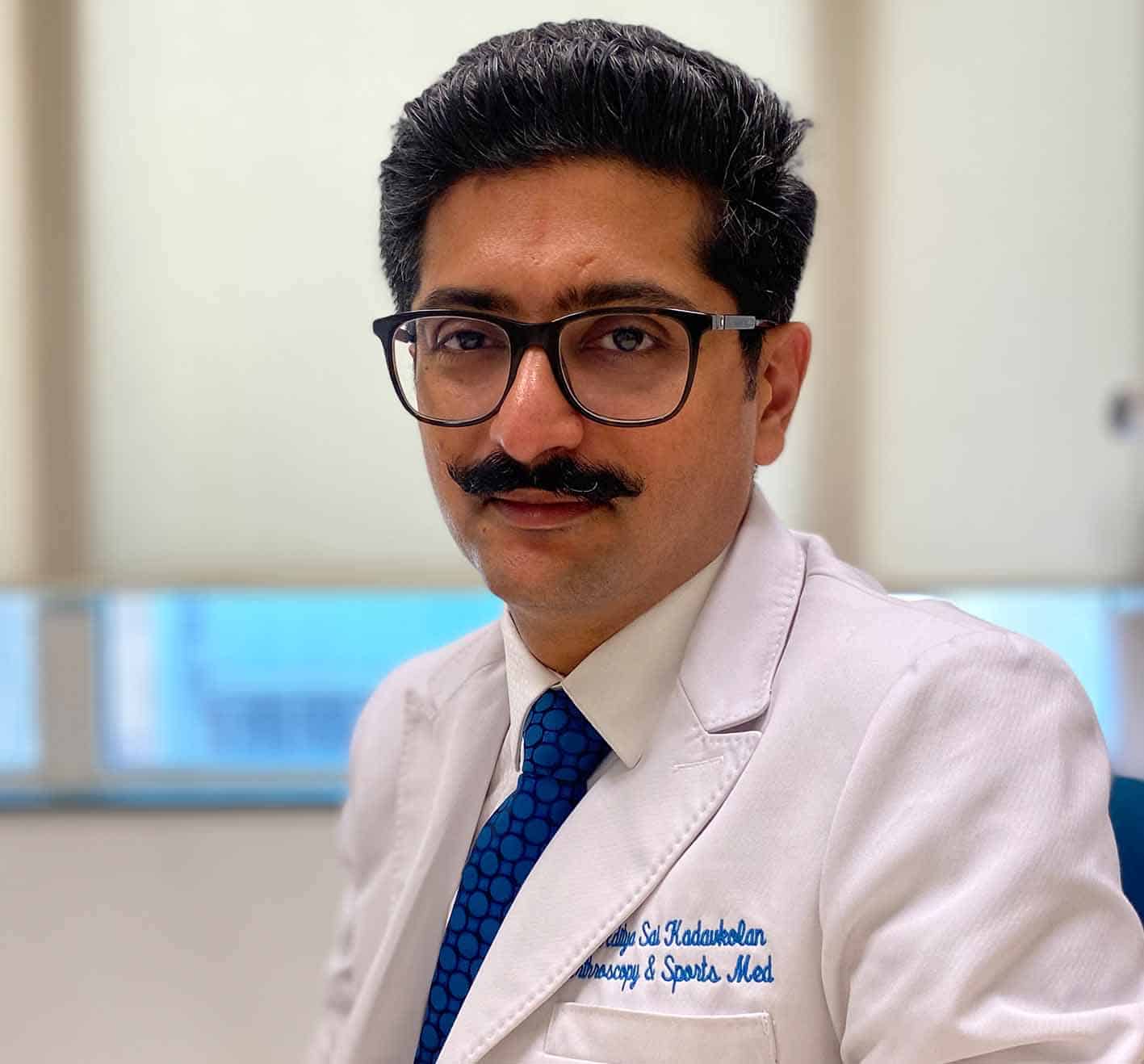 The anterior cruciate ligament (ACL) is an important ligament in the knees which plays an important role in keeping the joint of the knees stable and preventing excessive movement. When the ACL is torn, it causes severe pain and a lack of stability while walking and doing other activities. In such cases, ACL surgery is required to treat or reconstruct the affected ligament and is the only way out of extreme pain and discomfort.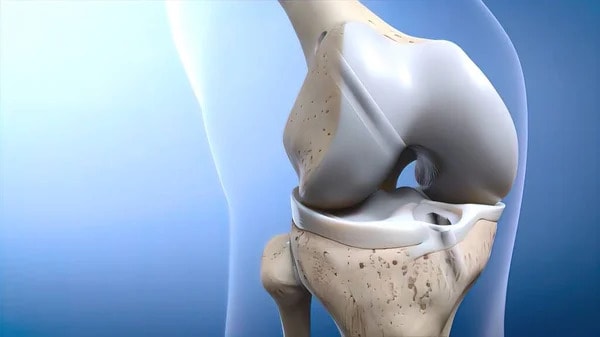 ACL surgery is an optimum choice for those who have completely torn ACLs and are highly engaged in sports or other activities.
It is also a suitable option for those with a partial tear but suffering from severe pain and instability. The primary motive for getting ACL surgery is to repair the damaged ligament to restore the normal functioning of the knees.
The surgery is usually performed with the help of arthroscopy. It involves minimum invasion techniques hence small incisions and a camera to get a complete view of the situation inside the knee. The surgery takes about two hours to complete, and the patients can go home on the same day. After the surgery, patients are given braces and crutches to use for several weeks to reduce the pressure on the knee, allowing it to heal completely. Physical therapy is needed to regain strength and mobility in the operated knee.
Thus, ACL surgery is a good option for the treatment of those patients who are suffering from a damaged ACL ligament or have a completely broken ACL ligament. The surgery would help them restore their high-intensity activities such as sports, etc. It helps reduce the pain and discomfort from the broken ligament while ensuring returning to all activities. Also, ensure that you are going for the surgical procedure only after all non-surgical procedures and treatments have been tried and did not deliver successful results. To get a complete idea of whether you should undergo the procedure, it is best to consult an orthopaedic surgeon who would assess your situation and suggest it accordingly.
I was not very updated with known orthopaedic surgeons in Mumbai when my brother got an ACL injury. Our physician suggested that we try out Dr Aditya Sai, who is one of the best ACL reconstruction surgeons in Mumbai. When we visited him, he was very friendly and had a complete idea of what he was doing. He is indeed an excellent surgeon and gave us all a perfect quality treatment. The staff and his care team are also very supportive and understanding.
Karishma Joshi
I visited Dr Aditya Sai, and he was the surgeon who performed my ACL surgery. I will say that he is the best ACL surgeon in Mumbai I have ever seen. He did my surgery with such precision and care that my recovery and outcome were more than satisfactory. His very well trained and caring staff and team helped me get back to normal. I am an athlete, and he understood my pain of not doing what I like. I am thankful to him.
John Alberto
I will recommend Dr Aditya Sai to any person who requires consultation or surgeon to perform an ACL surgery and is in search of the best doctors for ACL surgery in Mumbai. He is a very professional and supportive doctor who will understand your concerns and address them in the best way possible. Not only that, the entire staff and team are very caring and well-aware of all the situations. We received excellent treatment at an affordable cost.
Lokesh Singh
My search for the best ACL reconstruction surgeons in Mumbai was getting tedious and challenging day by day. Fortunately, my neighbour suggested Dr. Sai when I was ready to give up. I underwent the surgery under him and am feeling excellent now. He is a very polite and positive person.
Arjun Thombe
Our physician told us that Dr. Aditya Sai is one of the best ACL surgeons in Mumbai when my son got an ACL tear. So we went to meet him and seeing his knowledge, we got surgery from him. We are delighted by the outcomes, and my son will soon go back to playing.
Pratima Kulkarni
Since I was visiting Mumbai when my husband got his ACL torn, we had to start looking for the best doctor for ACL surgery in Mumbai without any reference. We read reviews that were for Dr. Sai and went to see him. He was highly professional and helped us with top treatment in this unknown city.
Karen Thomas
Dr. Aditya is the best ACL surgeon in Mumbai.
Dilip Pawse
I rate Dr. Aditya as the best ACL surgeon in Mumbai. 5 stars for him.
Suryakant Gore
If you search for best acl surgeon in mumbai, he is the one who shows up and definitely worth it.
Dilip Shah
Best ACL surgeon in Mumbai is Dr. Aditya Sai. His years of experience in the field is what makes him the best.
Narendra Garg
If you want to consult the best ACL surgeon in Mumbai, contact Dr. Aditya.
Mahavir Garg
He is one of the best ACL reconstruction surgeons in Mumbai.
Rajat Gupta
Dr. Aditya is definitely the best ACL reconstruction surgeon in Mumbai. Highly recommend him for surgery.
Dr Mondal
I visited Dr. Aditya for my surgery, and i have to say he is the one of the best ACL reconstruction surgeons in Mumbai.
Amit Mehta
Definitely one of the best ACL reconstruction surgeons in Mumbai.
Yash Gaur
I recommend dr. aditya for his expertise. He is the best acl reconstruction surgeon in Mumbai.
Asha Aswani
I consulted Dr. Aditya as he is the best doctor for ACL surgery in mumbai. Thank you doctor.
Amalendu Ghosh
One of the best doctor for ACL surgery in Mumbai. He is a wonderful person.
Anand R
I wanted to find the best doctor for ACL surgery in Mumbai, and I have to say I am lucky to come across Dr. Aditya Sai.
Bimla Thirani
Dr. Aditya is the best doctor for ACL surgery in Mumbai.
Anil Kumar
I respect Dr. Aditya Sai, he has done multiple procedures for me, and he is the best doctor for ACL surgery in Mumbai.
Pearlean Lobo
Dr. Aditya sai is the best acl reconstruction surgeons in mumbai and an expert in his field. He explained my condition in detail and was very patient with me when I asked a lot of questions regarding treatment and medication relating to my knee. During the consultation, he was calm and reassuring. Recommend.
Anjum Khatri
Dr. Aditya is the best ACL surgeon in Mumbai - I had a horrific sports-related injury that almost nobody in the city could help with. I was lucky to find Dr. Aditya. It would be my first, and Dr. Aditya was so great at making me feel confident in the procedure and getting me prepared for the big day. I would highly recommend him to anyone.
Sarvesh Khopde
I have been having knee problems for the last 3 months and finally, I decided to consult a doctor. I visited Dr Aditya and he examined me and suggested acl surgery. I had full trust in him as he is one of the best doctor for acl surgery in Mumbai. I would highly recommend him to all.
Mukti Jain
Hear It From Our Patients!
What Patients Say About Dr. Aditya Sai
Siddharth Sonkamble
24/07/2023
Very fortunate to have come across Dr. Aditya Sai for my knee surgery. I had to undergo ACL Avulsion plus Meniscus repair surgery. Dr. Aditya is very confident and explained the procedure beforehand. Doctor also helped me thoroughly for postoperative care and rehab. Everything has been extremely smooth so far. Follow up visits are always very positive and comforting. Many thanks to Dr. Aditya Sai for helping me. Also, many thanks to Dr. Sagar for his continuous assistance during the surgery as well as the follow ups. Thanks to Rayan and team for making it a smooth experience throughout. I would strongly recommend Dr. Aditya Sai for any knee injuries.
My experience with Dr. Aditya Sai and their team was nothing short of exceptional. Their expertise, compassion and commitment to providing outstanding medical care make them a standout practitioner in their field. I wholeheartedly recommend Dr. Aditya Sai to anyone seeking top quality medical services and their approach to patient care truly sets them apart.
Dr Aditya Sai was really helpful. The best thing about him is that he makes the patient very comfortable during consultation, and explain things very well that leaves no room for any doubt. He was meticulous to have guided me on every part of the overall surgical, including pre-op and post-op procedures. I appreciate that he made the overall process very simple for me to go through, including all the administrative work.
Raj Sahani Official 472
06/07/2023
Well cleaned and feeling comfortable with all the staff
Great doctor and surgeon.
Doctor service: Highly knowledgeable and experience Dr's team for complete surgery and very much happy and satisfied with work till now in Hiranandani Hospital Powai Special Thanks to Dr Aditya Sai Kadavkolan : 100 out of 100 marks for his knowledge , experience , state of mind during surgery and vision of futuristic any concerns for surgery…Highly and strongly recommended this Dr Aditya Sai for knee surgery STONRGLY RECOMMENDED Dr Aditya Sai THANKS A TON !!! Dr for such wonderful journey with you of surgery , really it was went well and going well with wife. Extremally happy & lucky to have you and chosen you for my wife surgery of ACL reconstruction... Now words to thank you and your team!!!!!!!! You have saved my wife life and retained her dreams of dancer and sports person !!!!! Last but not least : Dr Sagar assistant to Dr Aditya Sai for excellent link between patient relative and Hospital and Desk and Surgery team and Dr Aditya Sai and Discharge desk etc , without him it would not have been possible such a pleasant surgery for my wife
I had torn my labrum because of which I was facing frequent shoulder dislocations and they were really painful. I decided to get it fixed because I am physically active and involved in sports. I visited Dr. Aditya, he explained me everything in great detail about the procedure. The surgery was a major one and went on for hours. He did the surgery brilliantly and after rehabilitation I started physical activities and there are no dislocations anymore. Thanks Dr. Aditya ????
I had undergone surgery for complex fracture fixation (left distal end radius fracture ) done by Dr Aditya Sai. He rightly advised and explained everything what's to be done. His friendly nature with professionalism give lot of comfort to me during surgery and recovery period. His staff was also good and even make a call post discharge from hospital for my well being . I'd like to thank him and all his staffs
aditya kumar anshu
02/04/2023
Dr. Aditya Sai is a brilliant doctor and gem of a person for sure. I underwent ACL reconstruction and meniscus repair for my right knee by him 3 months back. He explained the procedure in detail and very clearly before surgery although I had done fair amount of research myself but the best thing was he gave me confidence for it. His full team was supportive throughout the procedure and post surgery too. I have been in constant consultations with him for three months as he is monitoring my progress during physiotherapy. I am very happy to tell that my progress is very good. Hopefully I am expecting to join sports very soon. I highly recommend him to anyone and thanks his whole staff for taking a very good care of me. Aditya Anshu Suptdg. Geo scientist at ONGC Ltd.
My Mother had multiple fractures in Shoulder and had to undergo Shoulder replacement surgery.. We are happy with the way process was explained to us and guidance provided by the Doctor.
Dr. Aditya Sai is a renowned surgical orthopedic doctor practising in Mumbai. He has 15+ years of experience, with 10+ years of specialization in Shoulder Surgery, Knee & Hip Arthroscopy And Joint Preservation.
Types Of Treatments Offered By Dr. Aditya Sai
Dr. Aditya specializes in problems of shoulder, hip and knee. These are the following types of treatments that the doctor provides.
What Happens When You Have an ACL Tear?
An ACL tear refers to damage to the anterior cruciate ligament (ACL) situated at the center of the knee. The ACL tear may be partial or total, and it may result in the following symptoms:
A loud popping sound at the time of the injury

Swelling

Extreme pain

Tenderness

Inability to continue an activity

Loss of range of motion in the knee joint

Discomfort on walking

Knee instability or inability to bear any weight on the leg
What is a BTB ACL Reconstruction?
Bone-Patellar Tendon-Bone or BTB graft is a type of autograft used to reconstruct or repair a tear in the anterior cruciate ligament (ACL).
The BTB procedure involves the removal of a strip of soft tissue from the middle portion of the patient's own patellar tendon, which is a tendon connecting the knee cap or patella to the upper portion of the shin bone or tibia.
The soft tissue that is removed is then harvested with intact bone blocks on both ends. One end of the bone block is from the patella's lower end and the other end of the bone block is from the upper part of the tibia. 
When the BTB graft is implanted for the ACL tear, the bone plugs from the graft will be seated into the bone sockets in the knee region at either side of the reconstructed ACL.
Does ACL Tear Need Surgery?
An ACL reconstructive surgery is recommended to repair an ACL tear and regain movement and stability in the knee joint. 
However, not all cases of ACL tear need surgery. Surgery is usually recommended for individuals who are extremely active physically or for individuals who have persistent pain despite trying non-surgical methods like medications, rest, elevation, ice-pack application, and use of compression wrap.
ACL reconstruction surgery is usually recommended in the following cases:
Young and active individuals

Individuals having persistent pain in the knee joint

ACL injury leads to the knee buckling while performing routine activities, like walking

An athlete who wishes to stay physically active

More than one ligament or the fibrous cartilage in the knee joint is also injured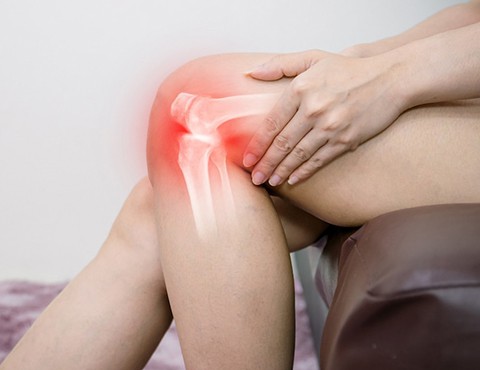 What Are the Symptoms of ACL Tear?
An ACL tear may result in the following symptoms:
Feeling or hearing a pop sound in the knee

Pain

Tenderness

Swelling beginning immediately or four to six hours after the injury and lasting for two to four weeks

Loss of range of motion in the knee joint

Discomfort while walking

Instability in the knee joint

Inability to bear weight on the leg

Inability to continue with an activity
Does ACL Reconstruction Lead to Knee Replacement?
An ACL reconstruction surgery does not directly lead to the need of performing a knee replacement surgery. However, people having a history of ACL reconstruction surgery are known to be five times more likely to undergo a total knee replacement surgery in the future compared to the general population. 
While ACL reconstruction surgery is performed in cases of damaged knee ligaments, a knee replacement surgery is generally indicated in cases of damaged bones that make up the knee joint. 
This usually occurs in case of arthritis, in which the cartilage cushioning the bones of the knee during movement gets worn away. The common types of arthritis treated using knee replacement surgery are osteoarthritis, rheumatoid arthritis, and psoriatic arthritis.
ACL surgery involves repairing or reconstructing the ACL tear or injury, while knee replacement surgery involves the replacement of a damaged knee joint with an artificial prosthesis.
Treatment Procedure for ACL Tear in Mumbai
The treatment for ACL tears may vary among different individuals based on their individual circumstances and knee condition. The different treatment modalities for ACL tear include the following:
ACL Tear Repair by Home Remedies
Certain home remedies can help in immediately reducing the pain and swelling following a knee injury. The following home-care tips can help in reducing the symptoms associated with an ACL tear:
Rest:

Sufficient rest can help in healing and limiting the weight bearing on the knee.

Ice application:

Ice application on the affected knee every two hours, about twenty minutes at a time during waking hours can help in reducing knee swelling.

Compression:

Wrapping a compression wrap or elastic bandage around the knee joint can help in reducing knee pain and swelling.

Elevation:

The patient is recommended to lie down with the knees in an elevated position by keeping the lower leg on top of a few pillows.
Physiotherapy to Treat ACL Tear
A physiotherapist will provide the patient with specific exercises to help in reducing knee pain and swelling, as well as restore the full range of motion of knee joint.
The patient may need to wear a brace to stabilize the knee joint and also use crutches to assist in walking and avoid putting any weight on the affected knee joint.
Physiotherapy can help in successfully treating ACL tears in people who are not very active physically, engage in mild or moderate forms of exercises and recreational activities, or play only those sports that do not put much stress on the knee joints.
Surgery for ACL Tear Treatment
Surgery is only recommended in the following cases:
An athlete who plans to stay physically active

Injury of more than one ligament or fibrous cartilage in the knee joint

An injury that leads to knee buckling during routine activities
ACL reconstruction surgery involves the removal of the damaged ligament and its replacement with a tendon segment known as a graft, which connects the bone to the muscle. The graft can be used from another part of the patient's knee or a deceased donor.
ACL reconstruction surgery is then followed by physiotherapy to restore the function and stability of the knee joint.
Preparation for ACL Tear Treatment
The doctor will recommend undergoing certain tests and examinations before undergoing ACL tear treatment. These examinations include:
Physical examination:

The doctor will check the knee for pain and swelling, along with the range of motion and overall function of the knee joint.

X-rays:

The doctor can rule out a bone fracture using X-rays.

MRI scans:

They help the doctor to check the extent of ACL injury and also the signs of damage to the other tissues in the knee joint.

Ultrasounds:

The doctor can check the injuries to the tendons, ligaments, and muscles in the knee joint region using ultrasounds.
The following preparatory steps are recommended by the doctor before ACL tear treatment:
The patient needs to discuss with the doctor the various treatment options for an ACL tear, as well as any other queries regarding the treatment or surgery.

The patient will be instructed to fast, that is, not eat or drink anything after midnight, the night before the ACL reconstruction surgery.

The patient needs to inform the doctor of any vitamins, supplements, or medicine that he/she may be taking before undergoing surgery.

The doctor may recommend stopping or tapering the dose of certain medicines, like blood thinners and anti-inflammatory drugs, a few days before surgery to avoid bleeding.

The doctor will recommend quitting smoking and alcohol consumption for several days leading up to the surgery.

The doctor recommends undergoing physiotherapy sessions before the surgery to reduce the swelling around the knee, strengthen the muscles around the knee, and restore the range of motion of the knee joint as much as possible.

The doctor may recommend to practice walking using crutches before the surgery, as the patient will need to use them after surgery.
Post-Operative Protocol for ACL Tear
Most patients are sent home on the same day following an ACL reconstruction surgery. The following post-operative protocol after an ACL repair surgery can aid in a quick and smooth recovery:
The patient is told to move his/her ankles up and down at least 10 times every 10 minutes for two to three days after surgery to prevent blood clot formation.

The dressing on the knee joint is usually removed the day after surgery.

It is important to take adequate rest after ACL reconstruction surgery and also keep the incision area dry and clean.

The sutures will be removed about one to two weeks after the surgery.

It is normal to have some discomfort and pain for a few days after ACL repair surgery. The patient can take painkillers recommended by the doctor to relieve this pain.

The patient needs to keep the operated leg at an elevated position for the first three to five days after surgery to reduce swelling.

Ice-pack application for a few days following surgery can help in reducing pain and swelling after the procedure.

Avoid putting any pressure or strain on the operated leg during the recovery period.

Follow-up appointments with the doctor will usually be recommended a few weeks after the surgery to monitor the patient's recovery and any risk of complications.

The patient will need to wear a knee brace for at least one week after surgery.

The patient will have to walk using crutches or another assisted walking device for at least six weeks after surgery.

Physical therapy exercises are recommended to restore the function and mobility of the knee joint. Most patients restore the range of motion in their knee joint within a few weeks after the surgery.

Athletes may take up to six to twelve months to resume their sports activities after surgery.
Risks and Complications Associated with ACL Tear Treatment
ACL reconstruction surgery has a high rate of success and has minimal chances of causing complications. However, it is recommended to discuss the possible risks associated with the procedure with the doctor before opting for the procedure. The possible risks associated with ACL tear treatment include:
Infection

Blood clots

Bleeding

Persistent knee pain

Knee weakness or stiffness

Loss of the range of motion of the knee

Disease transmission from the graft received from a cadaver

Improper healing due to graft rejection

Growth plate injuries

Muscle, nerve, or blood vessel damage
ACL Tear Treatment Cost in Mumbai
The cost of ACL tear treatment in Mumbai generally varies between INR 30,000 to INR 2,00,000. However, this cost will vary depending on several factors, which may include the following:
Type of treatment performed:

A surgical treatment will cost more compared to a non-surgical treatment method.

Damage to the knee joint:

Severe damage to the ligaments and tendons of the knee joint may need a more extensive form of treatment and will therefore cost more.

Graft chosen:

An allograft obtained from a cadaver will generally cost more than an autograft, which is obtained from the patient's own tendon. A synthetic graft will cost less compared to an autograft and allograft.

Hospital chosen:

A multispecialty private hospital will have higher treatment charges than a government or small hospital.

Insurance coverage:

The cost of treatment will vary depending on the patient's medical insurance coverage.

Surgeon's expertise:

An experienced surgeon will have higher consultation and treatment fees compared to an inexperienced surgeon.

Diagnostic tests:

The cost of the diagnostic tests recommended before undergoing surgery will be added to the total cost of treatment.

Cost of anesthesia and medications:

The charges of the anesthesia, medicines, and other surgical equipment used are added to the total cost of treatment.

Physiotherapy sessions:

The cost of the physiotherapy and rehabilitation sessions is added to the total cost of treatment.

Follow-up sessions:

The cost of the follow-up sessions with the doctor will be added to the total cost of ACL tear treatment.
Qualities of a Top ACL Tear Surgeon
The treatment of an ACL tear is done by an orthopedic surgeon. A good ACL tear surgeon has the following qualities:
Board certified and specializes in ACL surgery

Experienced at treating patients with a similar condition

Practices at a reputed clinic or hospital

Accepts insurance

Can make the patient feel comfortable and answer all their queries

Compassionate with good bedside manners

Leadership qualities

Flexible approach to treatment

Realistic outlook

Willingness to keep himself or herself updated with new technologies
How to Choose the Best ACL Tear Surgeon in Mumbai?
The choice of the right orthopedic surgeon can improve the results of an ACL tear treatment. There are many good ACL tear surgeons in Mumbai. The following tips can help in choosing the best ACL tear surgeon in Mumbai:
Ask for referrals:

Ask your family, friends, and healthcare providers for recommendations. You can compare the reviews of different orthopedic surgeons to choose the best among them.

Check online reviews:

Check the doctor's ratings, reviews, and testimonials of patients treated by the same surgeon online.

Research about the surgeon's credentials:

Check that the surgeon chosen is board certified with no malpractice claims.

Check the experience of the surgeon:

An experienced orthopedic surgeon is more likely to provide you with successful treatment outcomes compared to an inexperienced surgeon.

Check the reputation of the hospital or clinic:

Find out about the hospital or clinic where the surgeon will provide you with treatment. Always choose a hospital/clinic with good healthcare facilities and patient satisfaction rates.

Consultation with the surgeon:

Have a consultation appointment with the surgeon and get all your queries solved. You can also gauge your comfort level with the surgeon during this appointment.

Accepts insurance coverage:

Choose a surgeon who accepts your insurance plan to receive maximum insurance benefits and reduce your out-of-pocket expenses.
Frequently Asked Questions