Frozen Shoulder Treatment By The Best Shoulder Surgeon In Mumbai
Why Choose Dr. Aditya Sai?
Consultant Orthopedic Surgeon
Dr. Aditya Sai is a consultant in Orthopaedics specializing in Shoulder Surgery, Knee and Hip arthroscopy & Joint preservation Dr. Aditya has been trained in the best of the institutes in India as well as globally, with his MBBS from the Madras Medical College and MS in Orthopedics from Seth GS Medical College & KEM hospital, both amongst the top institutes in the country. He has undergone training in Hip arthroscopy and Joint preservation from the USA.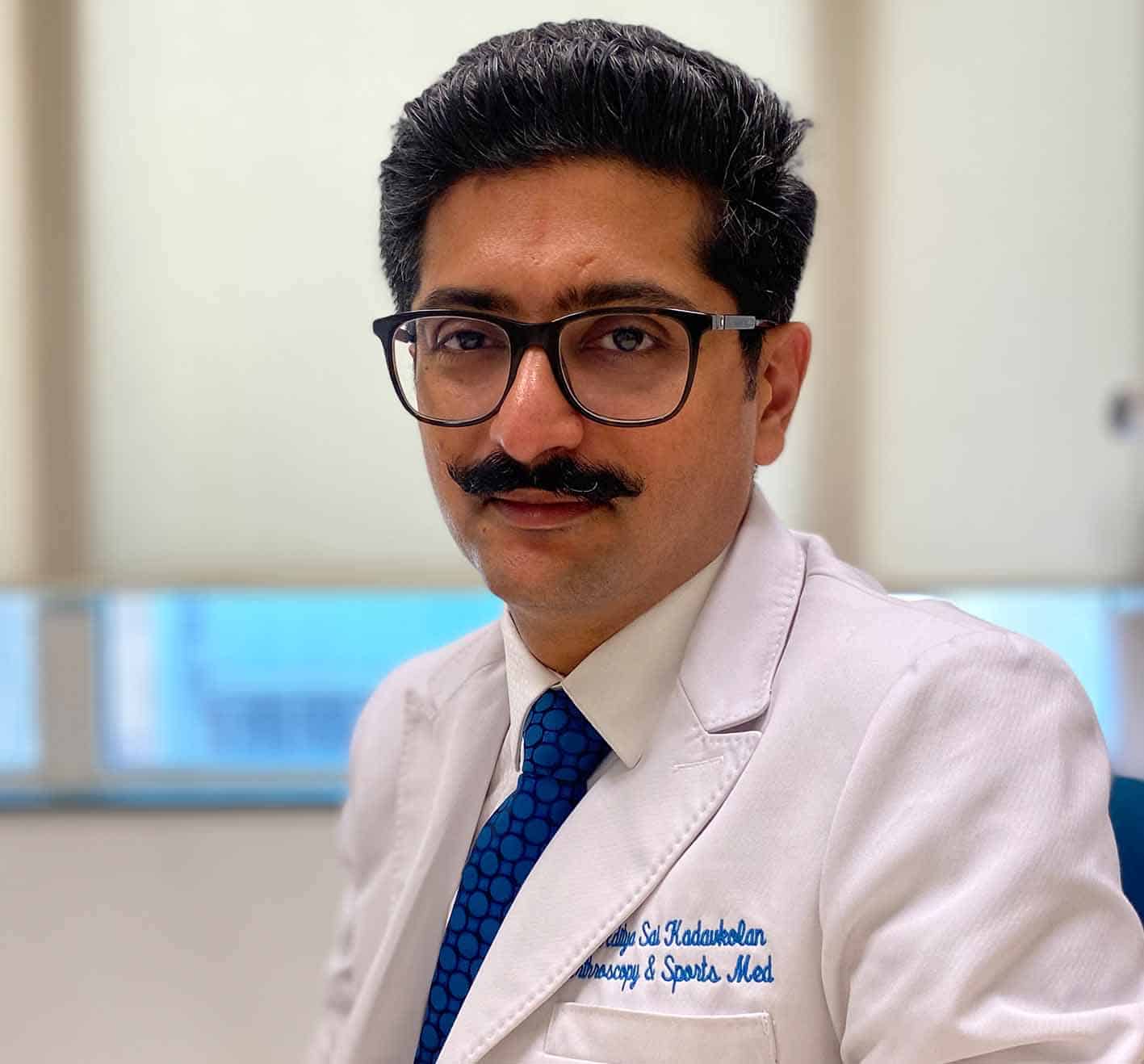 As I had some severe pain and stiffness in my shoulder, I looked for the best doctor for frozen shoulders in Mumbai and came across Dr Aditya Sai. I must say he is a great doctor and one of the best to get your frozen shoulder treated. Within weeks of my treatment, my mobility has increased, and I can perform my daily activities.
Neeraj Modi
Due to an injury, I had to keep my shoulders immobile for a longer duration. When my plasters were removed, my shoulders were just refusing to move. So as per one of my friend's suggestions, I thought of getting my frozen shoulder treatment in Mumbai from Dr Aditya Sai. He suggested that I undergo frozen shoulder surgery. Though I was very unsure of the results, I underwent surgery, and I can see quite a lot of improvement.
Bhushan Mittal
Due to my busy routine, I had to sit for the entire day in front of my laptop. The movement of my shoulders was restricted a lot, resulting in pain and stiffness of trying to move them. So I thought of consulting with a doctor as further ignorance would only deplete the condition. I took an appointment with Dr Aditya Sai, recognised as one of the best doctors for frozen shoulders in Mumbai. I have got much relief after the treatment and would like to recommend him to everyone.
Manoj Tiwari
I had noticed various risk factors of developing frozen shoulders. I am also a diabetic patient. When I turned forty, I thought it would be better to get a consultation from an experienced and trained doctor for my condition. So as per some of the references for frozen shoulder treatment in Mumbai, I visited Dr Aditya Sai. He is an excellent, experienced doctor. He suggested the perfect treatment according to my condition.
Sonal Tiwari
Aditya Sai is the best doctor for frozen shoulder in Mumbai. I recommend him, he is good and provides the best frozen shoulder treatment in Mumbai.
Punam Rani
I wanted to get my shoulder treatment and came to know about Dr. Aditya Sai. He is the best doctor for frozen shoulder in Mumbai. He did a wonderful job on my shoulder pain and I would say he is the frozen shoulder treatment in Mumbai.
Rita Gonsalves
Dr. Aditya is the frozen shoulder treatment in Mumbai. I came to know about him while searching for best doctor for frozen shoulder in Mumbai.
Ashok Azad
My grandpa needed a shoulder surgery and wanted to consult the frozen shoulder treatment in Mumbai. Dr. Aditya helped him with his pain and he is one of the best doctor for frozen shoulder in Mumbai according to my grandpa now. Thank you so much doctor.
Surinder Singh
Searching for best doctor for frozen shoulder in Mumbai, made me come across Dr. Sai. He is the frozen shoulder treatment in Mumbai.
P Kumaravyasa
I had frozen shoulder for a few weeks, went to see Dr. Aditya sai, and just after an hour we got to the root of the problem. Excellent service, great advice, and now I am fit again. Dr. Aditya Sai is the best doctor for frozen shoulder in Mumbai.
Omkar Rana
My shoulder pain has given me a lot of issues recently and I am unable to do many activities, but with the help of Dr Aditya I got the best frozen shoulder treatment in Mumbai. All thanks to the doctor and his entire team.
Megha Gandhi
Hear It From Our Patients!
What Patients Say About Dr. Aditya Sai
Siddharth Sonkamble
24/07/2023
Very fortunate to have come across Dr. Aditya Sai for my knee surgery. I had to undergo ACL Avulsion plus Meniscus repair surgery. Dr. Aditya is very confident and explained the procedure beforehand. Doctor also helped me thoroughly for postoperative care and rehab. Everything has been extremely smooth so far. Follow up visits are always very positive and comforting. Many thanks to Dr. Aditya Sai for helping me. Also, many thanks to Dr. Sagar for his continuous assistance during the surgery as well as the follow ups. Thanks to Rayan and team for making it a smooth experience throughout. I would strongly recommend Dr. Aditya Sai for any knee injuries.
My experience with Dr. Aditya Sai and their team was nothing short of exceptional. Their expertise, compassion and commitment to providing outstanding medical care make them a standout practitioner in their field. I wholeheartedly recommend Dr. Aditya Sai to anyone seeking top quality medical services and their approach to patient care truly sets them apart.
Dr Aditya Sai was really helpful. The best thing about him is that he makes the patient very comfortable during consultation, and explain things very well that leaves no room for any doubt. He was meticulous to have guided me on every part of the overall surgical, including pre-op and post-op procedures. I appreciate that he made the overall process very simple for me to go through, including all the administrative work.
Raj Sahani Official 472
06/07/2023
Well cleaned and feeling comfortable with all the staff
Great doctor and surgeon.
Doctor service: Highly knowledgeable and experience Dr's team for complete surgery and very much happy and satisfied with work till now in Hiranandani Hospital Powai Special Thanks to Dr Aditya Sai Kadavkolan : 100 out of 100 marks for his knowledge , experience , state of mind during surgery and vision of futuristic any concerns for surgery…Highly and strongly recommended this Dr Aditya Sai for knee surgery STONRGLY RECOMMENDED Dr Aditya Sai THANKS A TON !!! Dr for such wonderful journey with you of surgery , really it was went well and going well with wife. Extremally happy & lucky to have you and chosen you for my wife surgery of ACL reconstruction... Now words to thank you and your team!!!!!!!! You have saved my wife life and retained her dreams of dancer and sports person !!!!! Last but not least : Dr Sagar assistant to Dr Aditya Sai for excellent link between patient relative and Hospital and Desk and Surgery team and Dr Aditya Sai and Discharge desk etc , without him it would not have been possible such a pleasant surgery for my wife
I had torn my labrum because of which I was facing frequent shoulder dislocations and they were really painful. I decided to get it fixed because I am physically active and involved in sports. I visited Dr. Aditya, he explained me everything in great detail about the procedure. The surgery was a major one and went on for hours. He did the surgery brilliantly and after rehabilitation I started physical activities and there are no dislocations anymore. Thanks Dr. Aditya ????
I had undergone surgery for complex fracture fixation (left distal end radius fracture ) done by Dr Aditya Sai. He rightly advised and explained everything what's to be done. His friendly nature with professionalism give lot of comfort to me during surgery and recovery period. His staff was also good and even make a call post discharge from hospital for my well being . I'd like to thank him and all his staffs
aditya kumar anshu
02/04/2023
Dr. Aditya Sai is a brilliant doctor and gem of a person for sure. I underwent ACL reconstruction and meniscus repair for my right knee by him 3 months back. He explained the procedure in detail and very clearly before surgery although I had done fair amount of research myself but the best thing was he gave me confidence for it. His full team was supportive throughout the procedure and post surgery too. I have been in constant consultations with him for three months as he is monitoring my progress during physiotherapy. I am very happy to tell that my progress is very good. Hopefully I am expecting to join sports very soon. I highly recommend him to anyone and thanks his whole staff for taking a very good care of me. Aditya Anshu Suptdg. Geo scientist at ONGC Ltd.
My Mother had multiple fractures in Shoulder and had to undergo Shoulder replacement surgery.. We are happy with the way process was explained to us and guidance provided by the Doctor.
Dr. Aditya Sai is a renowned surgical orthopedic doctor practising in Mumbai. He has 15+ years of experience, with 10+ years of specialization in Shoulder Surgery, Knee & Hip Arthroscopy And Joint Preservation.
Types Of Treatments Offered By Dr. Aditya Sai
Dr. Aditya specializes in problems of shoulder, hip and knee. These are the following types of treatments that the doctor provides.
Frequently Asked Questions