Best Knee Treatment India
Knee Treatment By The Best Knee Surgeon In India
Why Choose Dr. Aditya Sai?
Consultant Orthopedic Surgeon
Dr. Aditya Sai is a consultant in Orthopaedics specializing in Shoulder Surgery, Knee and Hip arthroscopy & Joint preservation Dr. Aditya has been trained in the best of the institutes in India as well as globally, with his MBBS from the Madras Medical College and MS in Orthopedics from Seth GS Medical College & KEM hospital, both amongst the top institutes in the country. He has undergone training in Hip arthroscopy and Joint preservation from the USA.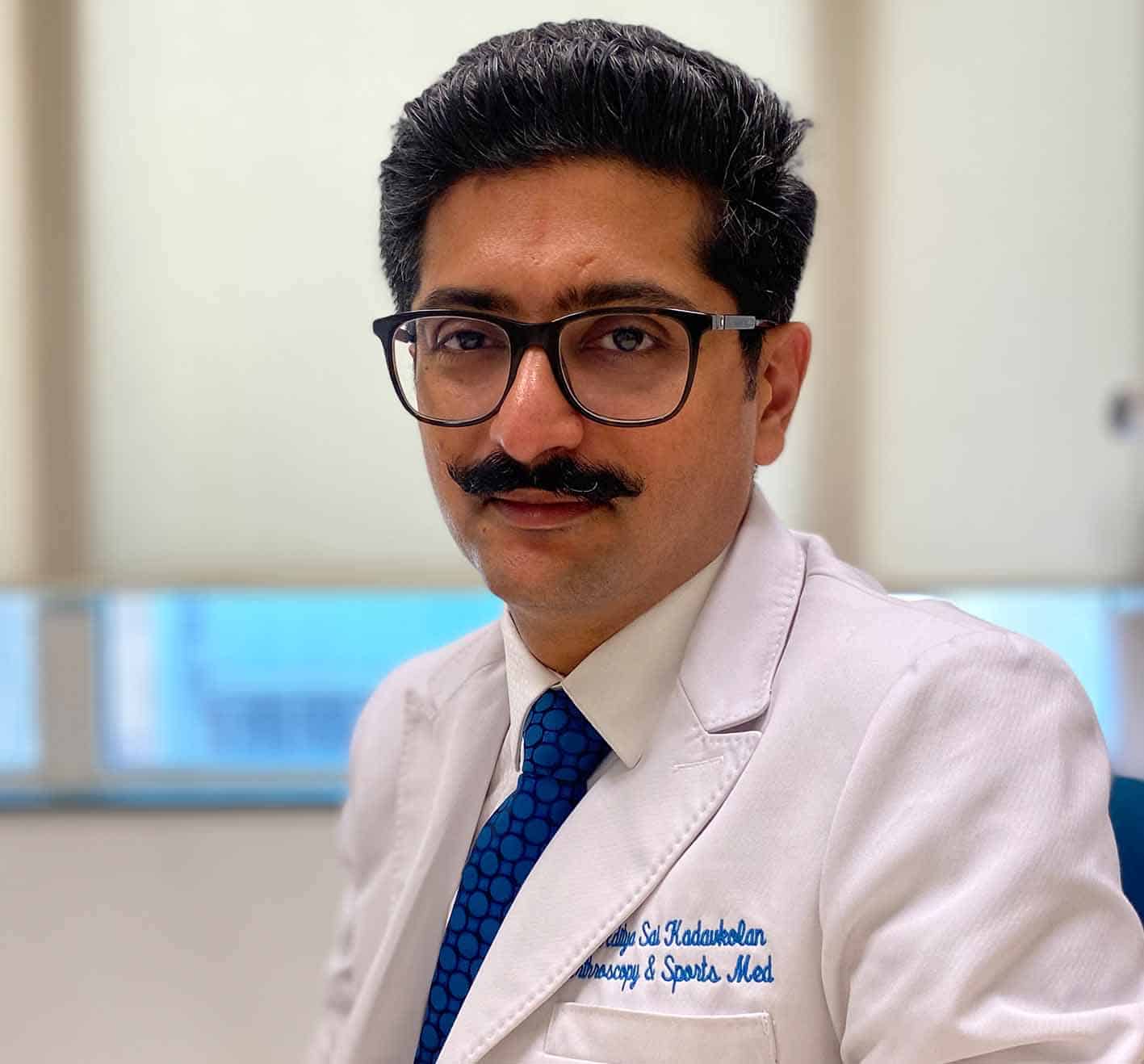 In 2014, I came to the Shoulder and Knee Clinic with severe knee pain. Walking and standing were painful for me, and I used to take painkillers on occasion. I went to other hospitals as well, but my experience was not positive. I was given challenging exercises to do that I was unable to do. However, my experience with Shoulder and Knee Clinic has been positive, as they provide excellent care and offer realistic knee treatment costs in India. My knee pain has significantly improved.
Kavya Khurana
A relative referred me to the Shoulder and Knee Clinic two years ago to treat flat feet and leg pain. Owing to extreme discomfort, I was unable to walk or sleep well. Day by day, I was becoming more and more sad. I'm happy a friend recommended Dr Aditya to me. He is an incredible doctor. I'm pain-free for the first time in a long time today. After eight years, I was able to sleep soundly, feel optimistic, and return to normal. Shoulder and Knee Clinic, in my opinion, provides the best knee surgery in India.
Muskan Sethi
My wife looked for specialists to perform complete knee replacements after being advised by two orthopaedic doctors that I wanted total knee replacements. Dr Aditya was one among them on the internet. He finished the Oxford operation, and I was playing golf just twenty-eight days later. The cost was a significant concern for me, but Shoulder and Knee Clinic offered me the best possible knee surgery price in India. My new left knee has made a huge difference in my life.
Kunal Pandya
Dr Aditya, I just wanted to thank you for the bilateral absolute knee replacements you did for me at a realistic price, especially when the knee surgery cost in India is so high. I was back playing racquetball and tennis in four months after putting in the PT practice, and I've been improving weekly since then. I'm between 90-95 percent back to full playing potential since the second surgery, which was eight months ago. I'd forgotten how satisfying it would be just to feel comfortable again. My quality of living has significantly changed as a result of these surgeries. Again, thank you and the whole team.
Kusum Chopra
Shoulder And Knee Clinic has affordable knee surgery prices in India. I got done with my treatment from them and I must say the service they have provided to me is amazing. They are experienced and highly professional. Highly recommended.
Rupali Joshi
You will get the best arthroscopic knee surgery in India at Shoulder and Knee Clinic. Dr Aditya Sai is warm and welcoming and makes you feel comfortable. Also, the staff is too good.
Gaurav Gulati
From arrival to departure, I received a super level of care after my recent ankle reconstruction operation, performed by Dr. Aditya. Big shoutout to all the staff. And as an added plus, knee surgery cost in India is expensive but it's really affordable in this clinic. Thank you.
Atharva Shukla
Absolutely great! He was able to repair my Knee when other doctors wouldn't. Everything has been great. The hospital and office staff were wonderful. I think they provide the cheapest knee surgery cost in India. Highly recommended!
Kandaswamy Konar
I found that knee surgery cost in India was very high, that's when my friend recommended Dr Aditya Sai. He provided treatments at affordable rate which helps us get the surgery done without worriers.
Jatin Joshi
I wanted to get knee surgery but was very concerned about the knee surgery price in India. But since Dr. Aditya Sai accepted my medical claim I was able to get the surgery done at Shoulder And Knee Clinic.
Ashish Mehrotra
An affordable and best treatment for arthroscopic knee surgery in India can be found at Dr Aditya's clinic and is highly recommended.
Sahil Shah
Dr Aditya is the best specialist in India. I saw that he gave us enough time as required and furthermore, he gave us the best administrations. I can unhesitatingly say that he is the best arthroscopic knee surgery in india. Profoundly recommended.
Umesh Shahu
One of the best hospitals I've ever been to. Expert consultants, friendly staff, generally punctual appointments. knee surgery cost in India is expensive but it's really affordable in Dr. Aditya's clinic. Thank you. I really recommend it!
Rahul Pawar
There are no words to explain the brilliance, skill, and consideration that Dr Aditya displays in all his interactions with his patient. I felt safe and knew I was in the best hands possible, arthroscopic knee surgery cost in India is expensive but it's really affordable in Dr. Aditya's clinic. Highly recommended!
Bushan Sharma
There is no doubt that Dr Aditya Sai does the best knee surgery in India. He used modern technology to treat his patient with advanced equipments. He has a good team of trainned staff members. I would highly recommend him.
Shruti Patak
At Shoulder and Knee Clinic you receive the best knee surgery in India. Dr. Aditya Sai and his team did a pretty wonderful job. My mother loves to go for walks and jogs again.
Shail Gada
Knee surgery in India can be treated most effectively by Dr Aditya who treats all his patients with care and respect.
Sheetal Sharma
Hear It From Our Patients!
What Patients Say About Dr. Aditya Sai
माझा ह्या हॉस्पिटल मधील अनुभव हा एकदम चांगला आहे माझी गुडघ्यावरील शस्त्रक्रिया अत्यंत यशस्वीरित्या येतील डॉक्टरांनी व सर्व स्टाफने उत्तमरीत्या पार पाडली आहे. माझा पाय व गुडघा भविष्यात मी चालू शकेन का नाही असे मला शंका होती परंतु येथील शस्त्रक्रिया नंतर मी आता एकदम ठणठणीत असून या हॉस्पिटल मधील माझा अनुभव अत्यंत चांगला आहे. डॉक्टर आदित्य साई हे अत्यंत उत्कृष्ट सर्जन आहेत आज त्यांच्यामुळेच मी माझ्या गुडघ्यावर उभारू शकत आहे आम्ही चालू शकत आहे त्यांचं सहकार्य खूप छान असते. तसेच खूप प्रामाणिकपणे ते आपले काम पार पडतात आणि रुग्णांची सेवा करतात.
Thank you so much "Doctor Aditya Sai" for the excellent work u did for my both shoulder surgery, you are the most amazing doctor, u had made me feel so relaxed, comfortable and confident when I was very much nervous and a lot of anxiety, but I am so pleased with the outcome of my surgery,my family and I will always be thankful to you for all your support,care and the confidence that you had build in me.Your knowledge and skills are greatly appreciated!you are the Best .... Thank you Soo much Dr
Aditya Sai Sir, please except my heartfelt gratitude for the exceptional care and skill you provided during my recent ACL & Meniscus Repair arthroscopic surgery. From the initial consultation through to the post-operative follow-ups, your professionalism and kindness were evident at every step. I am truly fortunate to have had you as my surgeon, and I will always remember the difference you've made. Thank you!
Deepak Jaiswal
13/09/2023
Everything was perfect. Dr Aditya Sai is excellent doctor.
Priyanka Singh
07/09/2023
Was fortunate to have come across Dr. Aditya Sai. I had my ACL+ mensicus repair done. My injury was old and had become worse over the years playing football which made me nervous to go ahead with surgery.But doctor aditya Sai and his team were confident and made me feel completely confident and comfortable with the process. Also they assisted with the before and after surgery process which made it very easy. My surgery has been successful and would definitely recommend Dr. Aditya Sai.
Siddharth Sonkamble
24/07/2023
Very fortunate to have come across Dr. Aditya Sai for my knee surgery. I had to undergo ACL Avulsion plus Meniscus repair surgery. Dr. Aditya is very confident and explained the procedure beforehand. Doctor also helped me thoroughly for postoperative care and rehab. Everything has been extremely smooth so far. Follow up visits are always very positive and comforting. Many thanks to Dr. Aditya Sai for helping me. Also, many thanks to Dr. Sagar for his continuous assistance during the surgery as well as the follow ups. Thanks to Rayan and team for making it a smooth experience throughout. I would strongly recommend Dr. Aditya Sai for any knee injuries.
My experience with Dr. Aditya Sai and their team was nothing short of exceptional. Their expertise, compassion and commitment to providing outstanding medical care make them a standout practitioner in their field. I wholeheartedly recommend Dr. Aditya Sai to anyone seeking top quality medical services and their approach to patient care truly sets them apart.
Dr Aditya Sai was really helpful. The best thing about him is that he makes the patient very comfortable during consultation, and explain things very well that leaves no room for any doubt. He was meticulous to have guided me on every part of the overall surgical, including pre-op and post-op procedures. I appreciate that he made the overall process very simple for me to go through, including all the administrative work.
Raj Sahani Official 472
06/07/2023
Well cleaned and feeling comfortable with all the staff
Dr. Aditya Sai is a renowned surgical orthopedic doctor practising in Mumbai. He has 15+ years of experience, with 10+ years of specialization in Shoulder Surgery, Knee & Hip Arthroscopy And Joint Preservation.
Types Of Treatments Offered By Dr. Aditya Sai
Dr. Aditya specializes in problems of shoulder, hip and knee. These are the following types of treatments that the doctor provides.
Frequently Asked Questions