Best Rotator Cuff Surgery India
Rotator Cuff Surgery By The Best Shoulder Surgeon In India
Why Choose Dr. Aditya Sai?
Consultant Orthopedic Surgeon
Dr. Aditya Sai is a consultant in Orthopaedics specializing in Shoulder Surgery, Knee and Hip arthroscopy & Joint preservation Dr. Aditya has been trained in the best of the institutes in India as well as globally, with his MBBS from the Madras Medical College and MS in Orthopedics from Seth GS Medical College & KEM hospital, both amongst the top institutes in the country. He has undergone training in Hip arthroscopy and Joint preservation from the USA.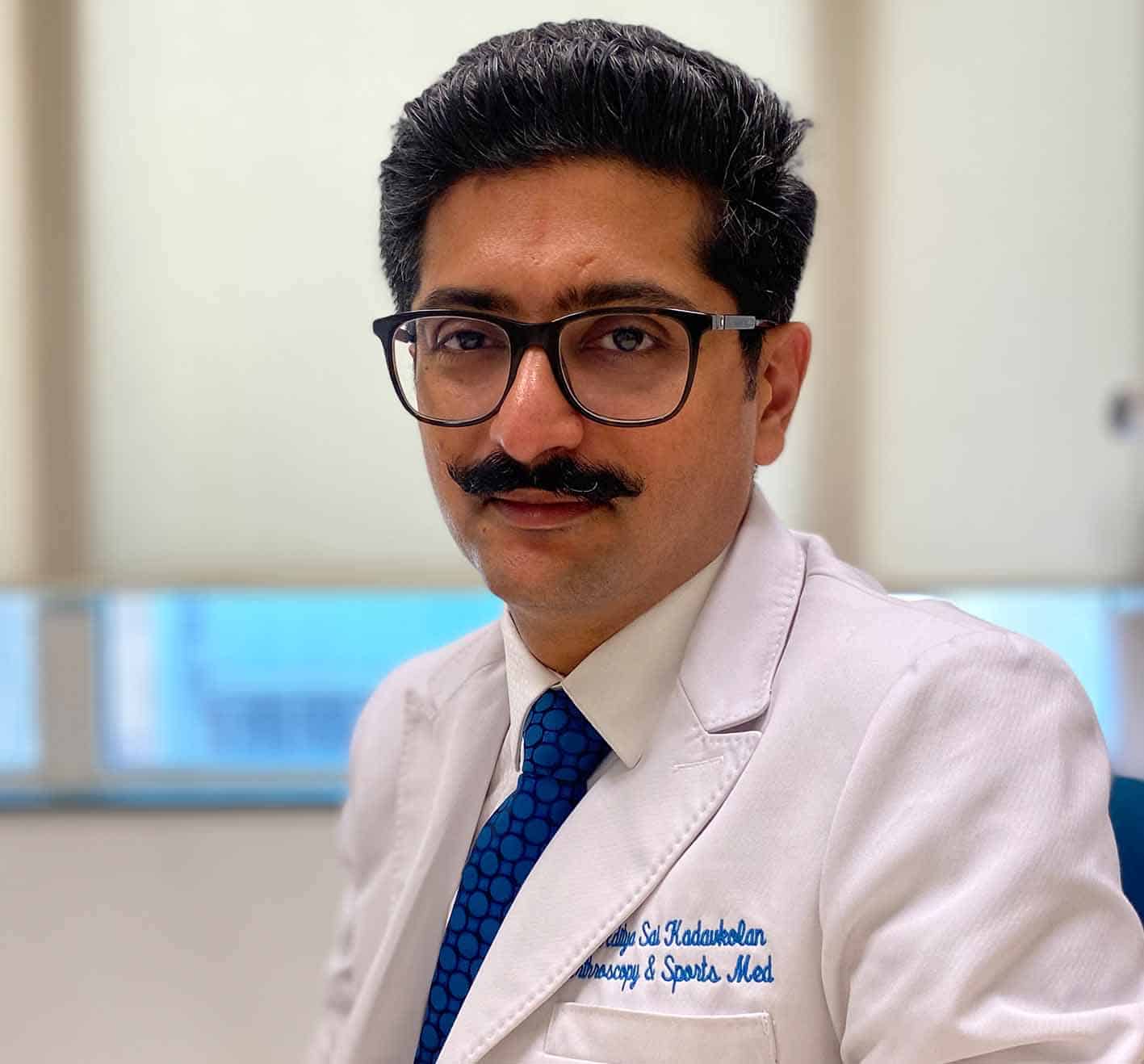 A rotator cuff is a group of muscles and tendons connecting the upper arm to the shoulder bone. These muscles and bones play a vital role in performing activities such as lifting and rotating the arm. If the rotator cuff is damaged due to any accident or trauma, it causes pain and weakness in the shoulder, making daily activities difficult. In some cases, rotator cuff surgery is crucial to repair the damaged tissue and relieve pain.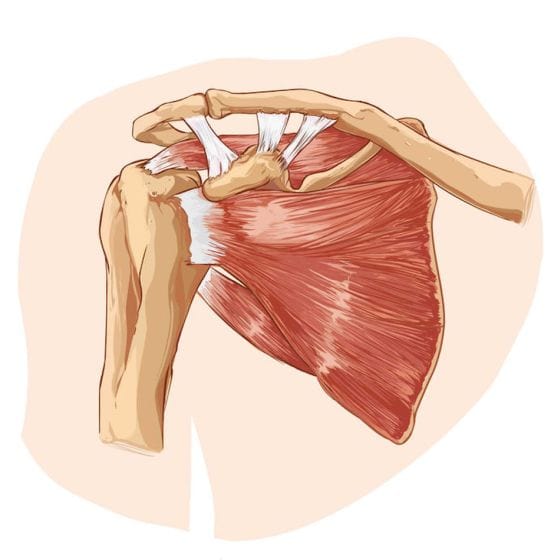 Rotator cuff surgery is usually recommended for those suffering from a large tear or severe enough to cause significant pain and disability in daily life activities. It can also treat people with chronic rotator cuff problems, which have not shown positive results through other treatments. The primary goal of rotator cuff surgery is to repair or reconstruct damaged tissue. In certain cases, it involves the removal of bone tissue or other debris, resulting in pain.
The surgery is performed under the influence of general anaesthesia and usually takes a few hours to complete. Depending on the extent of damage, the surgery can be performed using an open arthroscopic technique. After the surgery, the patient would have to wear a sling to support the area and allow the muscles and bones to recover. Gradually, as the body recovers, you might start with physiotherapy to regain strength and perform daily activities.
Thus, rotator cuff surgery is a boon to those suffering from extreme damage or tears in their rotator cuff. After the surgery, you would experience decreased pain, better functionality, and no further hindrances in activities due to shoulder pain. However, ensure that you have tried all other means of non-surgical treatments before opting for the surgical one without any successful results. To know more about rotator cuff surgery and whether you are a suitable candidate, you may get in touch with an orthopaedic doctor who will guide you through the process.
Consult Dr Aditya now to consult about rotator cuff surgery. He is an experienced surgeon with years of experience. He, along with his extraordinary medical team, helps patients to receive effective treatment for their conditions.
I could not move my arm very well and had severe pain. A friend of mine suggested I meet Dr Aditya Sai at Shoulder And Knee Clinic. I had a consultation and surgery for the rotator cuff in my shoulder. He offers the best rotator cuff repair surgery in India. I am thrilled with my recovery.
Sourav Bhatnagar
After a diagnosis with Dr Sai, he explained that I had an issue with the rotator cuff of my shoulder. I went through the surgery with him. His team at Shoulder And Knee Clinic are going to take off my sling in a week. I am feeling much better now. The rotator cuff surgery cost in India is usually pretty high, but my bill was reasonable.
Ajay Singh
For quite some, I was unable to move my shoulder and even perform the simplest tasks. So I searched for an orthopaedist and found Dr Aditya Sai. After running some tests and an extensive diagnosis, he told me that I had a tear in the rotator cuff in my shoulder, and it required surgery. The rotator cuff tear surgery cost in India is high, but the surgery is necessary. And I am happy that I went through it in the Shoulder And Knee Clinic. I could not have asked for a better care team.
Narayan Rathi
Rotator cuff injury treatment in India is prevalent, but I wanted the best doctors and support staff for it, and I think I got just that. Everybody at Shoulder And Knee Clinic, from the receptionist to Dr Sai himself, is very nice and caring. I am glad I got my surgery here.
Anand Modi
For the most part, the staff here are friendly and helpful. I had rotator cuff surgery and it went well. Although rotator cuff surgery cost India is expensive but it's cheap in this clinic.
Anjali Mishra
I do two time surgeries on my knee this is a very different surgery and after surgery, I fell doctor give me a new live thank you so much Dr Aditya. He is very genuine in his interaction and you can tell that besides his empathy he is very passionate about his work. The shoulder and knee clinic will give you the best rotator cuff tear surgery cost in India.
Dipika Parmar
My dad was suggested to do surgery and I was looking for an affordable rotator cuff tear surgery cost in India and came across Shoulder And Knee Clinic. They provide best in class facilities and treatment at the best price.
Smiti Kamra
I was feeling terrible discomfort in my shoulder. Dr Aditya Sai advised me to get a rotator cuff repair surgery in India. I am pretty comfortable at the moment with my shoulder movements
Gajagamini Pandey
The best and effective treatment for rotator cuff repair surgery in India can be done by Dr Aditya and his team of assistants who look after every patient individually.
Janvi Sharma
In case you are searching for rotator cuff injury treatment in india. The best treatment you can just have with Dr Adiya, he is very much experienced and furthermore fair. their staffs are additionally kind and accept care depending on the situation.
Pranav Mishra
Rotator cuff injury treatment in India comes at a high price and the services they provide are minimal. But at Dr.Aditya's clinic, the cost is affordable and has every facility which are needed for this treatment.
Satish Kumar
While practising bowling, I developed a rotator cuff injury, and I was told that I needed surgery. So I started looking for the best surgeon for rotator cuff repair surgery in India. I learned about Dr. Aditya Sai and contacted him. I underwent surgery, and I am relieved from the pain now.
Mritunjay Garain
While performing weight training exercises in the gym, I suffered a rotator cuff injury. Therefore, I started looking for rotator cuff injury treatment in India. I learned about Dr. Aditya Sai from one of my friends and contacted him for my treatment. Excellent service, polite doctor!
Ankita Kumari
Do you know how much rotator cuff surgery costs in India? I was shocked when I heard the cost and started to worry. Fortunately, I came across Shoulder and Knee Clinic. Having been treated there, I can proudly say that Dr. Aditya Sai offers the most affordable treatment options. I got great results from his treatment, and you can get it too.
Namrata Soni
When I was I started to worry. Being the sole earner of the family, the rotator cuff tear surgery cost in India was too much for me to balance my finances. My HR manager recommended I consult with Dr. Sai. I genuinely recommend you to contact Dr. Aditya Sai for your treatment. You can expect good results and control your pain and discomfort and without tearing a hole in your pocket.
Aishwarya Biswas
Hear It From Our Patients!
What Patients Say About Dr. Aditya Sai
माझा ह्या हॉस्पिटल मधील अनुभव हा एकदम चांगला आहे माझी गुडघ्यावरील शस्त्रक्रिया अत्यंत यशस्वीरित्या येतील डॉक्टरांनी व सर्व स्टाफने उत्तमरीत्या पार पाडली आहे. माझा पाय व गुडघा भविष्यात मी चालू शकेन का नाही असे मला शंका होती परंतु येथील शस्त्रक्रिया नंतर मी आता एकदम ठणठणीत असून या हॉस्पिटल मधील माझा अनुभव अत्यंत चांगला आहे. डॉक्टर आदित्य साई हे अत्यंत उत्कृष्ट सर्जन आहेत आज त्यांच्यामुळेच मी माझ्या गुडघ्यावर उभारू शकत आहे आम्ही चालू शकत आहे त्यांचं सहकार्य खूप छान असते. तसेच खूप प्रामाणिकपणे ते आपले काम पार पडतात आणि रुग्णांची सेवा करतात.
Thank you so much "Doctor Aditya Sai" for the excellent work u did for my both shoulder surgery, you are the most amazing doctor, u had made me feel so relaxed, comfortable and confident when I was very much nervous and a lot of anxiety, but I am so pleased with the outcome of my surgery,my family and I will always be thankful to you for all your support,care and the confidence that you had build in me.Your knowledge and skills are greatly appreciated!you are the Best .... Thank you Soo much Dr
Aditya Sai Sir, please except my heartfelt gratitude for the exceptional care and skill you provided during my recent ACL & Meniscus Repair arthroscopic surgery. From the initial consultation through to the post-operative follow-ups, your professionalism and kindness were evident at every step. I am truly fortunate to have had you as my surgeon, and I will always remember the difference you've made. Thank you!
Deepak Jaiswal
13/09/2023
Everything was perfect. Dr Aditya Sai is excellent doctor.
Priyanka Singh
07/09/2023
Was fortunate to have come across Dr. Aditya Sai. I had my ACL+ mensicus repair done. My injury was old and had become worse over the years playing football which made me nervous to go ahead with surgery.But doctor aditya Sai and his team were confident and made me feel completely confident and comfortable with the process. Also they assisted with the before and after surgery process which made it very easy. My surgery has been successful and would definitely recommend Dr. Aditya Sai.
Siddharth Sonkamble
24/07/2023
Very fortunate to have come across Dr. Aditya Sai for my knee surgery. I had to undergo ACL Avulsion plus Meniscus repair surgery. Dr. Aditya is very confident and explained the procedure beforehand. Doctor also helped me thoroughly for postoperative care and rehab. Everything has been extremely smooth so far. Follow up visits are always very positive and comforting. Many thanks to Dr. Aditya Sai for helping me. Also, many thanks to Dr. Sagar for his continuous assistance during the surgery as well as the follow ups. Thanks to Rayan and team for making it a smooth experience throughout. I would strongly recommend Dr. Aditya Sai for any knee injuries.
My experience with Dr. Aditya Sai and their team was nothing short of exceptional. Their expertise, compassion and commitment to providing outstanding medical care make them a standout practitioner in their field. I wholeheartedly recommend Dr. Aditya Sai to anyone seeking top quality medical services and their approach to patient care truly sets them apart.
Dr Aditya Sai was really helpful. The best thing about him is that he makes the patient very comfortable during consultation, and explain things very well that leaves no room for any doubt. He was meticulous to have guided me on every part of the overall surgical, including pre-op and post-op procedures. I appreciate that he made the overall process very simple for me to go through, including all the administrative work.
Raj Sahani Official 472
06/07/2023
Well cleaned and feeling comfortable with all the staff
Dr. Aditya Sai is a renowned surgical orthopedic doctor practising in Mumbai. He has 15+ years of experience, with 10+ years of specialization in Shoulder Surgery, Knee & Hip Arthroscopy And Joint Preservation.
Types Of Treatments Offered By Dr. Aditya Sai
Dr. Aditya specializes in problems of shoulder, hip and knee. These are the following types of treatments that the doctor provides.
Frequently Asked Questions