Best Shoulder Dislocation Surgery Treatment in Mumbai
Shoulder Dislocation Treatment By The Best Shoulder Surgeon In Mumbai
Why Choose Dr. Aditya Sai?
Consultant Orthopedic Surgeon
Dr. Aditya Sai is a consultant in Orthopaedics specializing in Shoulder Surgery, Knee and Hip arthroscopy & Joint preservation Dr. Aditya has been trained in the best of the institutes in India as well as globally, with his MBBS from the Madras Medical College and MS in Orthopedics from Seth GS Medical College & KEM hospital, both amongst the top institutes in the country. He has undergone training in Hip arthroscopy and Joint preservation from the USA.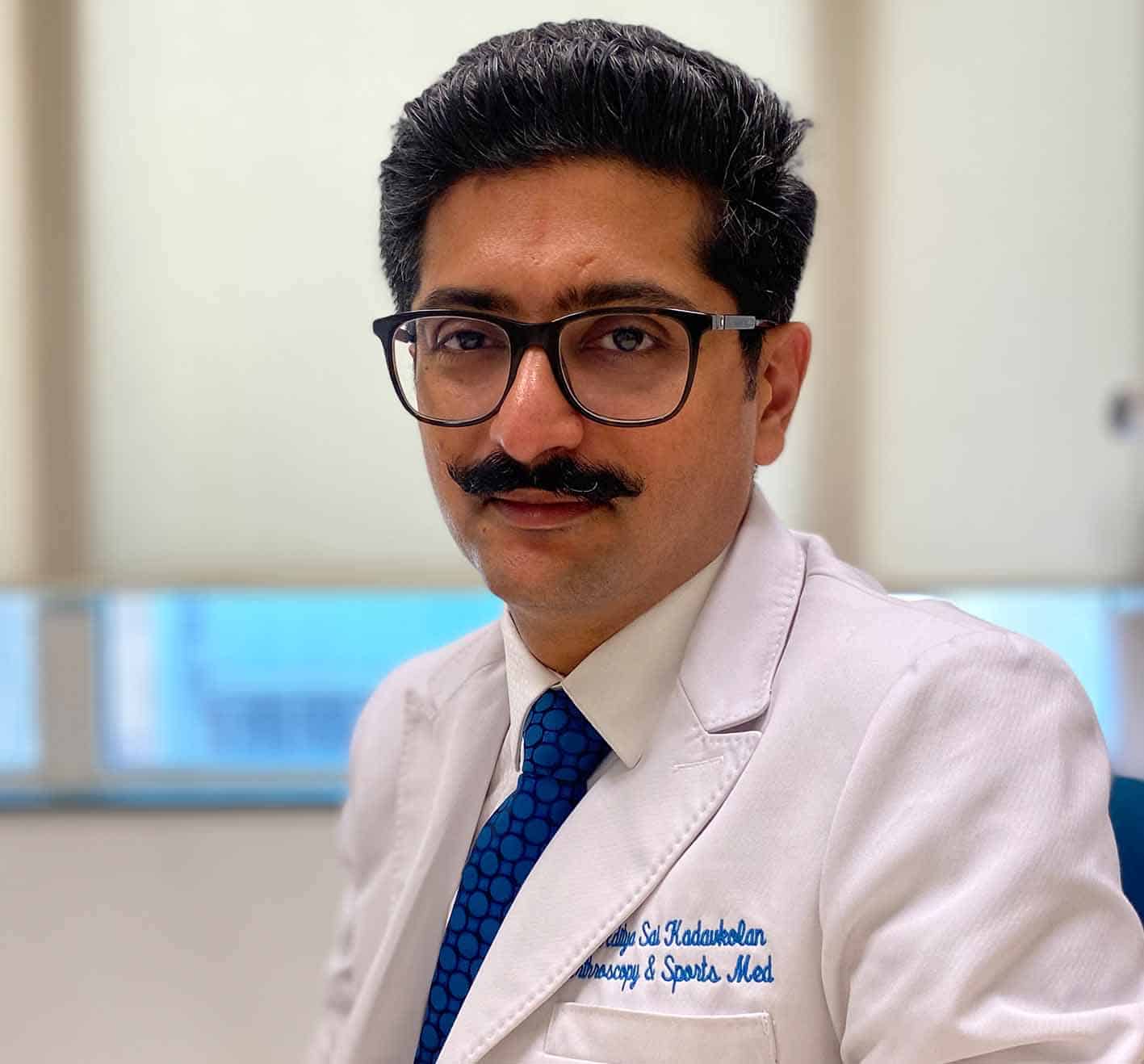 A shoulder dislocation occurs when the upper arm bone (humerus) is forced out of the shoulder blade's socket (scapula) socket due to a sudden accident or trauma. It causes severe pain and discomfort in the shoulder while making it difficult to maintain stability in the shoulder joints. In some cases, shoulder dislocation surgery may be required to repair the damaged joint and improve function.
Shoulder dislocation surgery is a good option for recurrent chronic shoulder dislocation.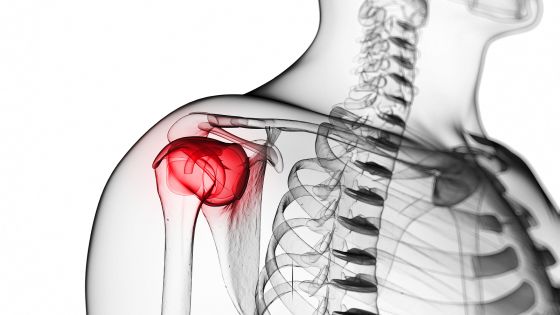 It is also recommended for those with a major injury to the ligaments or the shoulder joint bones. The surgery is done to repair or reconstruct the damaged tissue and help the joint to regain stability in the shoulder.
The shoulder dislocation surgery is performed under the influence of general anaesthesia. It can be performed with the open or arthroscopic technique. The surgery can be done in around 2 to 3 hours, and the healing period can vary between weeks to a few months.
The healing period is unique for individuals and varies as per the extent of the damage to the shoulder joint. After the surgery, the patient would have to wear the sling for several weeks to prevent any pressure on the shoulder and allow the shoulder joint to recover completely. Physical therapy is required after the surgery to help gain mobility and strength in the operated area.
Thus, shoulder dislocation surgery is an effective option for recurrent chronic shoulder dislocation. It is also recommended for those with a major injury to the ligaments or the shoulder joint bones. It is a great way to improve the quality of life by reducing pain, improving stability and increasing the range of motion.
Also, ensure that you are going for the surgical procedure only after all non-surgical procedures and treatments have been tried and did not deliver successful results. To get a complete idea of whether you should undergo the procedure, it is best to consult an orthopaedic surgeon who would assess your situation and suggest it accordingly. So, book your appointment now and get effective treatment.
I am a basketball player and regularly face injuries during my tournaments. In one such match, I was hurt badly. I later realised that it was a case of shoulder dislocation. I started searching for shoulder dislocation treatment in Mumbai and found Dr Aditya Sai. I consulted him, and now I am undergoing my treatment under his supervision.
Santosh Prasad
I met with an accident while I visited Mumbai and hurt my head and shoulder. The pain and swelling kept increasing, and it was getting difficult for me to use my arm. The hospital I was in said I needed surgery, and that's when we started looking for a specialist to undergo shoulder dislocation surgery in Mumbai. One of my friends took me to Dr Aditya Sai, and he examined my condition. I underwent the treatment under his guidance and feel perfectly fine now, ready to go back home to Bihar.
Brij Bhushan
I was told the shoulder dislocation surgery costs in Mumbai is very high. But my mom needed the surgery, and I was looking for a specialist who is affordable. Our neighbours suggested we meet Dr Aditya Sai. I fixed a meeting with him and went to his clinic. We cleared our doubts and were satisfied with his answers. After a week, my mother underwent surgery and is doing well now.
Chavi Agarwal
Shoulder And Knee Clinic provides one of the best treatments for shoulder dislocation surgery in Mumbai. I recently got done with my treatment and, I must say the service they have provided to me is amazing. I highly recommend this clinic to everyone.
Aditya Pawar
My shoulder got dislocated during a kabaddi match. Shoulder dislocation treatment in Mumbai at Shoulder and Knee Clinic was quite effective for me.
Siddhant Palekar
Shoulder dislocation surgery cost in Mumbai can vary a lot depending on the doctor, but Dr. Aditya Sai is the best doctor when it comes to shoulder dislocation treatment in Mumbai.
Pallavi Lele
While searching for shoulder dislocation surgery cost in Mumbai, I came across Dr. Aditya. The reviews said that he is the best for shoulder dislocation treatment in mumbai and after consulting him, I agree.
Sunita Sharma
I wanted to urgently get shoulder dislocation treatment. In Mumbai, Dr. Aditya is the one I thought of. I had come across him earlier while searching for shoulder dislocation surgery cost in Mumbai.
Pramod Srivastava
If you are searching for shoulder dislocation surgery cost in mumbai, consult Dr. aditya as he is the best when it comes to shoulder dislocation treatment in Mumbai.
Bhavin Shah
Dr. Aditya is a fantastic surgeon. I first saw him last year for my shoulder dislocation surgery in mumbai. He explains in exact detail what will happen before, during & after surgery. I would highly recommend him! The shoulder dislocation surgery cost in Mumbai especially in this clinic is very affordable.
Snigdha Simhadri
Dr. Aditya is excellent at listening to the problem, sorting out the knots, and providing exercises to help with recovery and mobility. No doubt this is the best place for shoulder dislocation surgery in Mumbai. Highly recommended!
Atharva Koli
I wanted to get the best shoulder dislocation treatment in Mumbai I am come from a small village in Maharashtra and my cousin in Mumbai and my cousin recommended me Dr Aditya, Happy to go with the treatment at his clinic.
Ruturaj Gaikwad
A shoulder injury is one of the worst and had to check for shoulder dislocation treatment in mumbai, however after treated by Dr. Aditya at his Shoulder and knee clinic, i was happy and satisified by my decision.
Shubham Shah
I was looking for the most effective shoulder dislocation treatment in mumbai, We acquired to discover about Dr Aditya, therefore, I visited he provided the most efficient treatment, the staff was thus helpful. Highly suggested.
Nishant Kamble
Dr Aditya Sai is known for shoulder dislocation treatment in Mumbai. I am saying this by my own personal experience. I had an injury and went to the doctor and the doctor treated it well. Recommended.
Arjun Shetty
I met with Doctor for my shoulder dislocation treatment. In Mumbai, during my boxing fight, I caused my shoulder dislocation. He did a good job on my shoulder treatment.
Milap Soni
My experience with shoulder dislocation treatment has been extremely successful. Dr. Aditya explained the task in exceedingly simple way and easy-to-understand words. He was happy to answer any concerns regardless of how trivial. Thank you, doctor, for the guidance and proper care, and no doubt you have the best shoulder dislocation treatment in mumbai.
Soni Yadav
Hear It From Our Patients!
What Patients Say About Dr. Aditya Sai
माझा ह्या हॉस्पिटल मधील अनुभव हा एकदम चांगला आहे माझी गुडघ्यावरील शस्त्रक्रिया अत्यंत यशस्वीरित्या येतील डॉक्टरांनी व सर्व स्टाफने उत्तमरीत्या पार पाडली आहे. माझा पाय व गुडघा भविष्यात मी चालू शकेन का नाही असे मला शंका होती परंतु येथील शस्त्रक्रिया नंतर मी आता एकदम ठणठणीत असून या हॉस्पिटल मधील माझा अनुभव अत्यंत चांगला आहे. डॉक्टर आदित्य साई हे अत्यंत उत्कृष्ट सर्जन आहेत आज त्यांच्यामुळेच मी माझ्या गुडघ्यावर उभारू शकत आहे आम्ही चालू शकत आहे त्यांचं सहकार्य खूप छान असते. तसेच खूप प्रामाणिकपणे ते आपले काम पार पडतात आणि रुग्णांची सेवा करतात.
Thank you so much "Doctor Aditya Sai" for the excellent work u did for my both shoulder surgery, you are the most amazing doctor, u had made me feel so relaxed, comfortable and confident when I was very much nervous and a lot of anxiety, but I am so pleased with the outcome of my surgery,my family and I will always be thankful to you for all your support,care and the confidence that you had build in me.Your knowledge and skills are greatly appreciated!you are the Best .... Thank you Soo much Dr
Aditya Sai Sir, please except my heartfelt gratitude for the exceptional care and skill you provided during my recent ACL & Meniscus Repair arthroscopic surgery. From the initial consultation through to the post-operative follow-ups, your professionalism and kindness were evident at every step. I am truly fortunate to have had you as my surgeon, and I will always remember the difference you've made. Thank you!
Deepak Jaiswal
13/09/2023
Everything was perfect. Dr Aditya Sai is excellent doctor.
Priyanka Singh
07/09/2023
Was fortunate to have come across Dr. Aditya Sai. I had my ACL+ mensicus repair done. My injury was old and had become worse over the years playing football which made me nervous to go ahead with surgery.But doctor aditya Sai and his team were confident and made me feel completely confident and comfortable with the process. Also they assisted with the before and after surgery process which made it very easy. My surgery has been successful and would definitely recommend Dr. Aditya Sai.
Siddharth Sonkamble
24/07/2023
Very fortunate to have come across Dr. Aditya Sai for my knee surgery. I had to undergo ACL Avulsion plus Meniscus repair surgery. Dr. Aditya is very confident and explained the procedure beforehand. Doctor also helped me thoroughly for postoperative care and rehab. Everything has been extremely smooth so far. Follow up visits are always very positive and comforting. Many thanks to Dr. Aditya Sai for helping me. Also, many thanks to Dr. Sagar for his continuous assistance during the surgery as well as the follow ups. Thanks to Rayan and team for making it a smooth experience throughout. I would strongly recommend Dr. Aditya Sai for any knee injuries.
My experience with Dr. Aditya Sai and their team was nothing short of exceptional. Their expertise, compassion and commitment to providing outstanding medical care make them a standout practitioner in their field. I wholeheartedly recommend Dr. Aditya Sai to anyone seeking top quality medical services and their approach to patient care truly sets them apart.
Dr Aditya Sai was really helpful. The best thing about him is that he makes the patient very comfortable during consultation, and explain things very well that leaves no room for any doubt. He was meticulous to have guided me on every part of the overall surgical, including pre-op and post-op procedures. I appreciate that he made the overall process very simple for me to go through, including all the administrative work.
Raj Sahani Official 472
06/07/2023
Well cleaned and feeling comfortable with all the staff
Dr. Aditya Sai is a renowned surgical orthopedic doctor practising in Mumbai. He has 15+ years of experience, with 10+ years of specialization in Shoulder Surgery, Knee & Hip Arthroscopy And Joint Preservation.
Types Of Treatments Offered By Dr. Aditya Sai
Dr. Aditya specializes in problems of shoulder, hip and knee. These are the following types of treatments that the doctor provides.
What is shoulder dislocation, and when should you receive treatment?
Shoulder dislocation occurs when the upper arm bone, called the humerus in the shoulder joint, is knocked out of its socket, called the glenoid. The most common causes of shoulder dislocation are falls, vehicle accidents, and sports injuries.
Patients with dislocated shoulders generally experience severe shoulder pain with swelling or bruising. You can also have trouble moving your arm and feel numbness or weakness in your arm, neck, hand, or finger.
One of the primary situations in which individuals may need treatment for shoulder dislocation is when they experience recurrent dislocations. Weakness in the muscles around the shoulder can contribute to these recurrent dislocations. Recurrent shoulder dislocations often lead to chronic instability, discomfort, and pain.
When shoulder dislocation starts affecting your ability to do everyday tasks or participate in sports, it becomes essential to seek treatment. The inability to perform everyday tasks or participate in sports can significantly disrupt your life. Hence, you must consult a physician to address the dislocation and its root causes.
A shoulder dislocation that is not taken seriously or managed properly can result in complications like nerve or blood vessel damage, chronic instability, and arthritis. It also can damage the ligaments, tendons, or surrounding structures.
Treatment After Reduction of the Dislocation
If an individual is suspected of shoulder dislocation, the doctor will perform imaging tests to confirm it, such as an X-ray, CT, or MRI. These scans can show the dislocation and check for broken bones or other soft tissue damage.
On diagnosis of a dislocated shoulder, the primary treatment step is to get the arm back into its socket. This procedure is called a closed reduction. Before performing a closed reduction, pain relievers or local anesthetic will be used to numb the shoulder area.
After the physician makes a closed reduction, the affected area must be immobilized for a few weeks using slings or splints. Immobilizing the dislocated area helps hold the shoulder in place and promotes better healing. The patient may be advised to do light exercises and apply ice to the injured shoulder to relax it.
Painkillers may also be prescribed to alleviate the pain and any inflammation. Any strenuous activity that puts stress on your dislocated shoulder must be avoided.
Surgery is required if the shoulder dislocations are associated with severe damage to ligaments or other soft tissues or if the individual is prone to repeated shoulder dislocations.
At the Shoulder and Knee Clinic, Dr. Aditya Sai offers the latest surgical techniques, including arthroscopy (minimally invasive treatment) for shoulder dislocations. Our latest treatment methods ensure a faster recovery and reduced post-operative discomfort for the patient.
Shoulder Dislocation Treatment Procedure in Mumbai
The treatment options for a dislocated shoulder depend on the severity of the dislocation and the overall general health of the affected individual.
For most shoulder dislocations, orthopedics generally follow conservative treatment methods. After a closed reduction, doctors immobilize the injured area using a sling or splint.
Anti-inflammatory medications will be prescribed, and rehabilitation exercises and physical therapy will be done to strengthen the muscles. However, the recovery outcome depends on the patient's commitment to rehabilitation therapy.
At Shoulder and Knee Clinic, we provide customized rehabilitation therapies according to the unique health requirements of individuals.
Doctors perform surgery in cases with recurrent shoulder dislocation or when the dislocation causes wear and tear of the ligaments, tendons, and other soft tissues.
Dr. Aditya Sai, our Orthopedic surgeon with 15-plus years of experience, specializes in shoulder surgery. The surgery repairs the damaged tissues and helps regain the stability of the shoulder joints.
Shoulder dislocation surgery is conducted under general anesthesia. It can be done as an open surgery or as a minimally invasive arthroscopic approach. The surgery typically lasts about 2 to 3 hours, and the recovery time can vary, ranging from several weeks to a few months.
In arthroscopic surgery for shoulder dislocation, small incisions are made near the dislocated site. The surgeon monitors and repairs the damaged site using the arthroscope (a tiny device with a camera attached). Since the procedure is less invasive, recovery is quicker.
Expected Outcome from Shoulder Dislocation Treatment
Usually, after a shoulder dislocation, a complete recovery takes about a few months. The use of splints or slings aids in better healing of the shoulder. Additionally, rehabilitation activities will continue for months after the joint is healed to improve the stability and tone of the muscles.
Following the recommended rehabilitation exercises after shoulder dislocation helps attain an increased range of motion. Most people can return to their usual activities after 4 to 6 weeks of physical therapy. However, they should be careful not to lift heavy things or strain their shoulders during this period.
The recovery outcomes depend mainly on the severity of the injury and the choice of treatment for a dislocated shoulder. As the shoulder injury heals, the pain and discomfort reduce.
Post-operative Care for Shoulder Dislocation
Here are some things to remember after a shoulder dislocation treatment.
Proper wound care is important to prevent infections. The surgical site should be kept dry and clean, and regular dressing changes must be done.
Pain management can be effectively carried out by following the recommended dose of pain medications and with proper immobilization.
Continue with the exercises and physical therapy to improve shoulder functions and prevent stiffness. Rehabilitation exercises enhance shoulder strength and mobility.
Stick to conducting regular follow-up appointments with the orthopedics to monitor recovery progress.
Risk Factors of Shoulder Dislocation
Some of the risk factors associated with Shoulder dislocation are discussed below:
Recurrent Dislocations: Even after successful treatment, the shoulder may repeatedly dislocate. Rehabilitation exercises and surgery generally help in preventing recurrent dislocations.
Shoulder Stiffness: Post-treatment, some patients may experience shoulder stiffness or reduced range of motion.
Nerve or Blood Vessel Injuries: During dislocation or surgical interventions, there is a risk of damaging nearby nerves or blood vessels.
Infection: Following surgical procedures, there is a small risk of infection at the incision site. Keeping the surgical site dry and clean helps in reducing infections.
Surgical complications: There is a very small chance of surgical complications like bleeding, blood clots, or allergic reaction to anesthesia.
Always discuss your concerns with the doctor. Strictly adhere to the post-operative care instructions provided by the medical team. Doing your exercises, following wound care practices, and avoiding any stress on your shoulder lowers the chances of any risks and promotes better healing and faster recovery.
Cost of Shoulder Dislocation Treatment in Mumbai
Shoulder dislocation treatment is an effective option for severely injured shoulders and recurrent dislocations. The charges of the treatment vary based on many parameters, such as:
Consultation charges of the experienced doctor
Tests and scans used in diagnosing shoulder dislocation
Choice of the treatment option
Expenses associated with surgical procedure
Anasthesia and medication charges
Rehabilitation costs
Also, most healthcare plans in India provide insurance coverage for orthopedic surgeries, including shoulder dislocation. Check with your insurance provider and the selected hospital to know whether you are eligible for insurance coverage.
How to Choose the Best Clinic for Shoulder Dislocation Treatment in Mumbai
Choosing the right doctor and clinic to treat shoulder dislocation is crucial as it affects the success of the treatment and the overall patient experience. Here are some guidelines to keep in mind when choosing the right clinic:
Seek out a qualified orthopedic surgeon with the necessary certifications.
Make sure of the authenticity of their clinic or practice.
Review online patient testimonials to learn more about successful treatment procedures.
Ensure the clinic or hospital has the latest technologies for diagnosing and treating orthopedic issues.
Select a surgeon skilled at communicating with the patient about the diagnosis, treatment options, and expected treatment outcomes.
Dr. Aditya Sai provides comprehensive care for orthopedic issues based on 15 years of expertise and 10-plus years of specialization in shoulder surgery. With international training in shoulder and knee treatments, Dr. Sai is well-versed in the latest advancements and technologies.
Our Shoulder and Knee Clinic has state-of-the-art infrastructure and cutting-edge tools, ensuring the highest quality of patient care.
How Can I Prevent My Shoulder from Dislocating Again?
It is not always possible to prevent a shoulder dislocation as unexpected falls, accidents, or other physical trauma can cause it. However, precautions can be taken to minimize the chances of shoulder dislocation. Some of the ways to minimize shoulder dislocations are:
Wear protective gear and equipment while playing or doing strenuous physical activities.
Focus on strengthening the muscles as it increases the stability of joints and prevents possible re-injury.
Avoid stressful activities that put pressure on the injured shoulder.
Maintain a good posture in daily activities like sitting and walking to ensure a stable shoulder.
Continue with rehabilitation exercises or start physical therapy to help enhance the muscle tone.
Please book an appointment with our hospital today for expert advice, diagnosis, or treatment of any orthopedic condition.
Frequently Asked Questions