Best Shoulder Replacement Surgery Mumbai
Shoulder Replacement Surgery By The Best Shoulder Surgeon In Mmbai
Why Choose Dr. Aditya Sai?
Consultant Orthopedic Surgeon
Dr. Aditya Sai is a consultant in Orthopaedics specializing in Shoulder Surgery, Knee and Hip arthroscopy & Joint preservation Dr. Aditya has been trained in the best of the institutes in India as well as globally, with his MBBS from the Madras Medical College and MS in Orthopedics from Seth GS Medical College & KEM hospital, both amongst the top institutes in the country. He has undergone training in Hip arthroscopy and Joint preservation from the USA.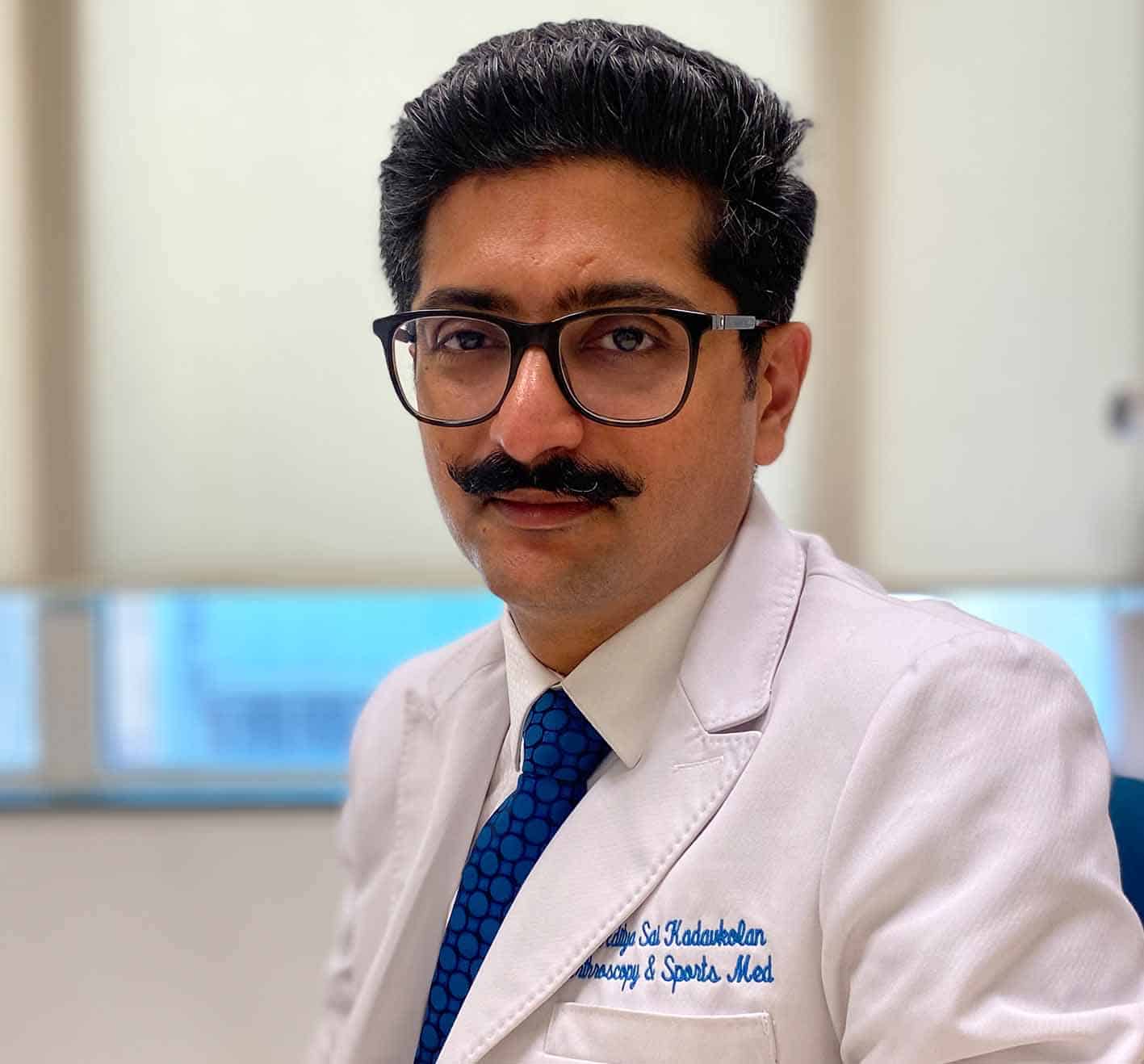 Dr Aditya Sai was great! Perhaps he is the best shoulder replacement surgeon in mumbai. He took his time explaining everything and answered all of my questions. The young lady who administered my treatment was very nice as well. I would recommend this clinic.
Ankur Gupta
Organized check-in. Plenty of space in the waiting room. Dr Aditya Sai is very friendly. He sits and explains things until you understand. He is the most famous shoulder replacement surgeon in Mumbai. He is never impatient, easy to talk to and down to Earth. Would recommend him 100%.
Pratham Sathe
The staff is great. They are really top notch and efficient and friendly. Dr Aditya Sai was great. Treated me with great care. I really appreciated all the time they put into my care. I also appreciate their system, the text appointment reminders, the online COVID screening prior to appointments and the online access to records.He is the best shoulder replacement surgeon in mumbai
Puneeth Bangera
Dr Aditya Sai was awesome! We got right down to the core of my issues, and he came up with a solid plan for me to get back to healthy. Also, the shots he gave me are already providing immense relief, and it's only been one day. He has an excellent bedside manner and makes the most of his time with you. He is the best shoulder replacement surgeon in Mumbai. Highly recommend him! Thank you!
Stuti Thakkar
The receptionist was very friendly, and things went well. I was very early and could see the Dr Aditya Sai before my appointment time. Dr Aditya Sai was very straightforward with his information about my problem. The nurse that administers my medication was very helpful and gave information on what to expect and advised me to step by step what he was doing. I highly recommend this facility to everyone as he is the best shoulder replacement surgeon in mumbai. Awesome experience.
Dishika Hegde
My wife had a total shoulder replacement and a tear of her knee fixed by Dr Aditya Sai. She LOVED the work of this guy!! Excellent surgeon, very confident, explained everything before he did it. She said she would go back to him as Dr Aditya Sai is the best shoulder replacement doctor in mumbai.
Himanshu Fulwani
I appreciate the doctor's experience! Dr Aditya Sai took his time and answered all the questions regarding my shoulder issues! I feel he was on point with all the questions. I recommend him to others that need help in this area if they have shoulder replacement issues, as he is the best shoulder replacement doctor in mumbai! The staff was friendly too!
Akash S Kumar
Outstanding experience. Dr Aditya Sai was extensive while explaining the future surgery needed. He was very calm and patient as I was in there with a severely special-needs child, which made the visit easier. His staff was great and happy to answer all of my questions. If you have any issues related to shoulder replacement in Mumbai, this is the clinic for you.
Dhanushree Madavi
First visit here and very impressed!! Thanks so much for your help. Everyone there was friendly and very professional!! Dr Aditya Sai explained everything to me and made sure I was comfortable. This clinic provides the best service for shoulder replacement in mumbai.
Vasanth Kumar
It was a great facility. Clean, efficient and well run. Dr Aditya Sai is very patient, understanding and excellent patient treatment. This clinic performs the best shoulder replacement surgery in mumbai. He was very, very professional and listened, which was appreciated. Thanks again!
Aryaki Potturi
I was seen quickly and efficiently & a treatment plan was made and executed. Dr Aditya Sai was polite; he listened & was very positive and patient. I couldn't be happier with the service of shoulder replacement surgery in mumbai - the best visit I've ever had for this ongoing issue.
Shivani Mishra
Hear It From Our Patients!
What Patients Say About Dr. Aditya Sai
माझा ह्या हॉस्पिटल मधील अनुभव हा एकदम चांगला आहे माझी गुडघ्यावरील शस्त्रक्रिया अत्यंत यशस्वीरित्या येतील डॉक्टरांनी व सर्व स्टाफने उत्तमरीत्या पार पाडली आहे. माझा पाय व गुडघा भविष्यात मी चालू शकेन का नाही असे मला शंका होती परंतु येथील शस्त्रक्रिया नंतर मी आता एकदम ठणठणीत असून या हॉस्पिटल मधील माझा अनुभव अत्यंत चांगला आहे. डॉक्टर आदित्य साई हे अत्यंत उत्कृष्ट सर्जन आहेत आज त्यांच्यामुळेच मी माझ्या गुडघ्यावर उभारू शकत आहे आम्ही चालू शकत आहे त्यांचं सहकार्य खूप छान असते. तसेच खूप प्रामाणिकपणे ते आपले काम पार पडतात आणि रुग्णांची सेवा करतात.
Thank you so much "Doctor Aditya Sai" for the excellent work u did for my both shoulder surgery, you are the most amazing doctor, u had made me feel so relaxed, comfortable and confident when I was very much nervous and a lot of anxiety, but I am so pleased with the outcome of my surgery,my family and I will always be thankful to you for all your support,care and the confidence that you had build in me.Your knowledge and skills are greatly appreciated!you are the Best .... Thank you Soo much Dr
Aditya Sai Sir, please except my heartfelt gratitude for the exceptional care and skill you provided during my recent ACL & Meniscus Repair arthroscopic surgery. From the initial consultation through to the post-operative follow-ups, your professionalism and kindness were evident at every step. I am truly fortunate to have had you as my surgeon, and I will always remember the difference you've made. Thank you!
Deepak Jaiswal
13/09/2023
Everything was perfect. Dr Aditya Sai is excellent doctor.
Priyanka Singh
07/09/2023
Was fortunate to have come across Dr. Aditya Sai. I had my ACL+ mensicus repair done. My injury was old and had become worse over the years playing football which made me nervous to go ahead with surgery.But doctor aditya Sai and his team were confident and made me feel completely confident and comfortable with the process. Also they assisted with the before and after surgery process which made it very easy. My surgery has been successful and would definitely recommend Dr. Aditya Sai.
Siddharth Sonkamble
24/07/2023
Very fortunate to have come across Dr. Aditya Sai for my knee surgery. I had to undergo ACL Avulsion plus Meniscus repair surgery. Dr. Aditya is very confident and explained the procedure beforehand. Doctor also helped me thoroughly for postoperative care and rehab. Everything has been extremely smooth so far. Follow up visits are always very positive and comforting. Many thanks to Dr. Aditya Sai for helping me. Also, many thanks to Dr. Sagar for his continuous assistance during the surgery as well as the follow ups. Thanks to Rayan and team for making it a smooth experience throughout. I would strongly recommend Dr. Aditya Sai for any knee injuries.
My experience with Dr. Aditya Sai and their team was nothing short of exceptional. Their expertise, compassion and commitment to providing outstanding medical care make them a standout practitioner in their field. I wholeheartedly recommend Dr. Aditya Sai to anyone seeking top quality medical services and their approach to patient care truly sets them apart.
Dr Aditya Sai was really helpful. The best thing about him is that he makes the patient very comfortable during consultation, and explain things very well that leaves no room for any doubt. He was meticulous to have guided me on every part of the overall surgical, including pre-op and post-op procedures. I appreciate that he made the overall process very simple for me to go through, including all the administrative work.
Raj Sahani Official 472
06/07/2023
Well cleaned and feeling comfortable with all the staff
Dr. Aditya Sai is a renowned surgical orthopedic doctor practising in Mumbai. He has 15+ years of experience, with 10+ years of specialization in Shoulder Surgery, Knee & Hip Arthroscopy And Joint Preservation.
Types Of Treatments Offered By Dr. Aditya Sai
Dr. Aditya specializes in problems of shoulder, hip and knee. These are the following types of treatments that the doctor provides.
Frequently Asked Questions