Best Sports Injury Specialist India
Consult The Best Sports Injury Specialist In India
Why Choose Dr. Aditya Sai?
Consultant Orthopedic Surgeon
Dr. Aditya Sai is a consultant in Orthopaedics specializing in Shoulder Surgery, Knee and Hip arthroscopy & Joint preservation Dr. Aditya has been trained in the best of the institutes in India as well as globally, with his MBBS from the Madras Medical College and MS in Orthopedics from Seth GS Medical College & KEM hospital, both amongst the top institutes in the country. He has undergone training in Hip arthroscopy and Joint preservation from the USA.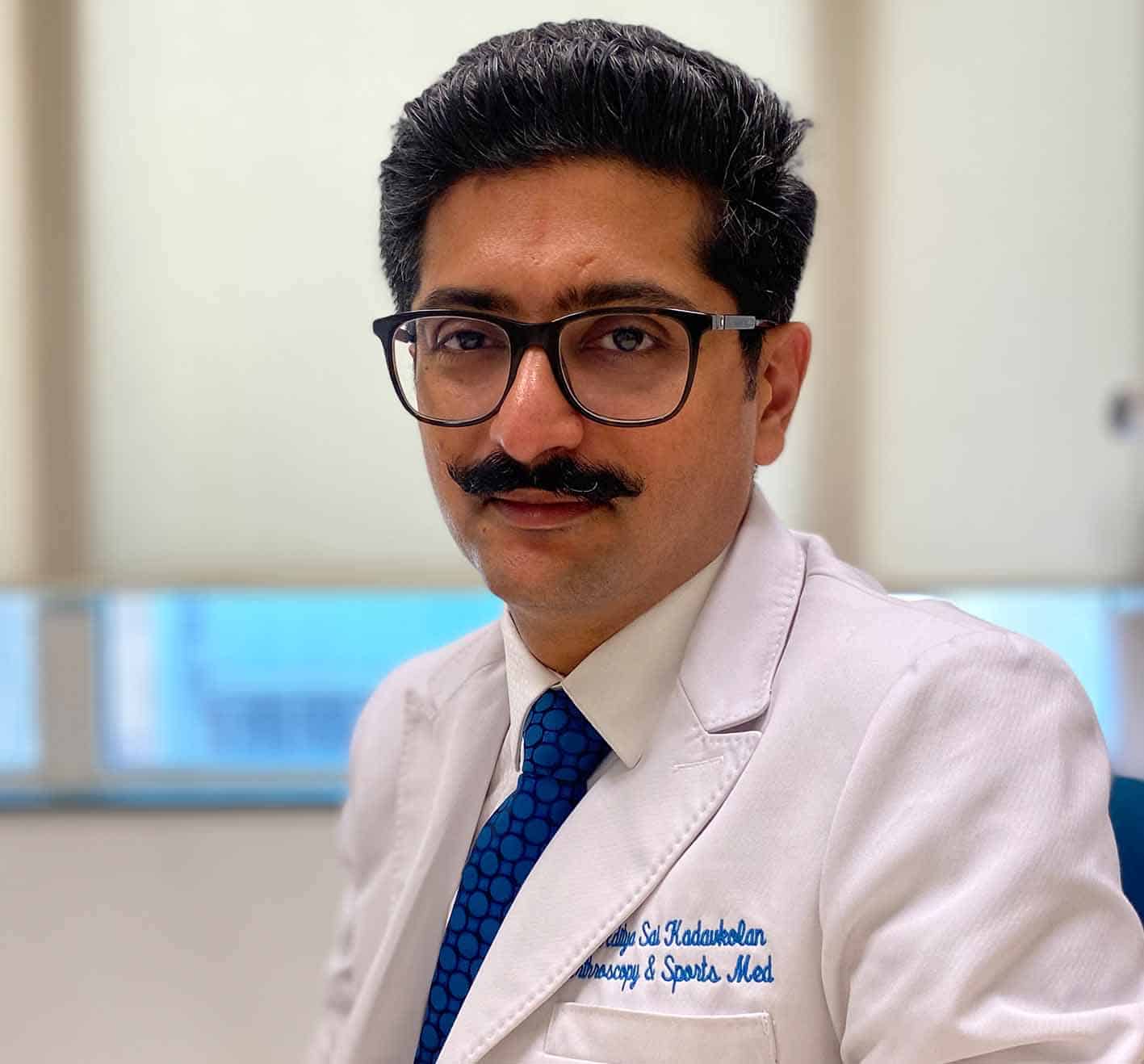 I was in pain! I have had chronic joint pain and swelling since last year. So on looking for one of the best sports injury doctors in India, I came across Dr Aditya Sai. He is a highly experienced doctor recognized for providing world-class treatments. I am really satisfied with the treatment received and am recovering very fast.
Vinod Diwan
I was looking for a good sports injury specialist in India. The swelling and pain in the joints were restricting my movements. Being an athlete, joint pain was causing lots of difficulties. So as per one of my friend's suggestions, I went to see Dr Sai. My pain and swelling have minimized, and my movement is also restoring slowly.
Surya Darshana
My father was suffering from a knee injury. Due to old age, his knees have weakened, so a slight bow resulted in an acute injury. So I was looking over the internet for the best sports medicine doctors in India and came across Dr Aditya Sai. My father is undergoing treatment under him and is able to see great results.
Prateek Gupta
My knee had been injured due to an accident. So I was on the search for a good sports specialist. One of my relatives recommended that I see Dr Aditya Sai, one of the best sports surgeons in India. I would like to recommend him to everyone looking for a good and experienced sports specialist. I am thrilled with the results.
Dhruv Somani
Being a sports person is very physically challenging due to constant injuries. But I get adequate treatment for my injuries at Shoulder And Knee Clinic. Dr Aditya Sai is the best sports injury doctor in India.
Gururaj Obhan
Great service, great front office staff. My doctor is the best sports injury doctor in India and was friendly and caring and I really felt taken care of. I recommend this office to anyone.
Rahul Sakhare
I highly recommend Dr. Aditya. He and his team stayed in touch with me for follow-up and made sure that I was healing properly. One of the best sports medicine doctors in India.
Sarvehs chopde
As I am an athlete and I often get injuries and Dr Aditya is the one that i trust for my treatment. He has the best team of sports medicine doctors in India.
Darmesh Pandey
I was unable to recover and get back to playing professional cricket as I had a severe back pain. However, once I visited Dr Aditya Sai, I noticed the difference in my back. He is the best sports medicine doctor in India.
Sushil Talreja
After my sports injury, I was looking for a sports medicine doctor in India and I found Dr Aditya to be the best.
Yash Patil
In case you are searching for a moderate expense, astonishing experience, and accommodating staff. Dr Aditya is the best sports surgeon in india. They even give every one of the updates identified with after and before treatment exceptionally recommended.
Raksha Jadhav
Dr. Aditya is the best sports surgeon in India and I am telling this by my personal experience. I am a football player and had an injury in one of my legs then by Dr. Aditya's consultation my fracture got fixed and today I am again in the ground Thanks to the doctor.
Abhishek Tripathi
Hear It From Our Patients!
What Patients Say About Dr. Aditya Sai
माझा ह्या हॉस्पिटल मधील अनुभव हा एकदम चांगला आहे माझी गुडघ्यावरील शस्त्रक्रिया अत्यंत यशस्वीरित्या येतील डॉक्टरांनी व सर्व स्टाफने उत्तमरीत्या पार पाडली आहे. माझा पाय व गुडघा भविष्यात मी चालू शकेन का नाही असे मला शंका होती परंतु येथील शस्त्रक्रिया नंतर मी आता एकदम ठणठणीत असून या हॉस्पिटल मधील माझा अनुभव अत्यंत चांगला आहे. डॉक्टर आदित्य साई हे अत्यंत उत्कृष्ट सर्जन आहेत आज त्यांच्यामुळेच मी माझ्या गुडघ्यावर उभारू शकत आहे आम्ही चालू शकत आहे त्यांचं सहकार्य खूप छान असते. तसेच खूप प्रामाणिकपणे ते आपले काम पार पडतात आणि रुग्णांची सेवा करतात.
Thank you so much "Doctor Aditya Sai" for the excellent work u did for my both shoulder surgery, you are the most amazing doctor, u had made me feel so relaxed, comfortable and confident when I was very much nervous and a lot of anxiety, but I am so pleased with the outcome of my surgery,my family and I will always be thankful to you for all your support,care and the confidence that you had build in me.Your knowledge and skills are greatly appreciated!you are the Best .... Thank you Soo much Dr
Aditya Sai Sir, please except my heartfelt gratitude for the exceptional care and skill you provided during my recent ACL & Meniscus Repair arthroscopic surgery. From the initial consultation through to the post-operative follow-ups, your professionalism and kindness were evident at every step. I am truly fortunate to have had you as my surgeon, and I will always remember the difference you've made. Thank you!
Deepak Jaiswal
13/09/2023
Everything was perfect. Dr Aditya Sai is excellent doctor.
Priyanka Singh
07/09/2023
Was fortunate to have come across Dr. Aditya Sai. I had my ACL+ mensicus repair done. My injury was old and had become worse over the years playing football which made me nervous to go ahead with surgery.But doctor aditya Sai and his team were confident and made me feel completely confident and comfortable with the process. Also they assisted with the before and after surgery process which made it very easy. My surgery has been successful and would definitely recommend Dr. Aditya Sai.
Siddharth Sonkamble
24/07/2023
Very fortunate to have come across Dr. Aditya Sai for my knee surgery. I had to undergo ACL Avulsion plus Meniscus repair surgery. Dr. Aditya is very confident and explained the procedure beforehand. Doctor also helped me thoroughly for postoperative care and rehab. Everything has been extremely smooth so far. Follow up visits are always very positive and comforting. Many thanks to Dr. Aditya Sai for helping me. Also, many thanks to Dr. Sagar for his continuous assistance during the surgery as well as the follow ups. Thanks to Rayan and team for making it a smooth experience throughout. I would strongly recommend Dr. Aditya Sai for any knee injuries.
My experience with Dr. Aditya Sai and their team was nothing short of exceptional. Their expertise, compassion and commitment to providing outstanding medical care make them a standout practitioner in their field. I wholeheartedly recommend Dr. Aditya Sai to anyone seeking top quality medical services and their approach to patient care truly sets them apart.
Dr Aditya Sai was really helpful. The best thing about him is that he makes the patient very comfortable during consultation, and explain things very well that leaves no room for any doubt. He was meticulous to have guided me on every part of the overall surgical, including pre-op and post-op procedures. I appreciate that he made the overall process very simple for me to go through, including all the administrative work.
Raj Sahani Official 472
06/07/2023
Well cleaned and feeling comfortable with all the staff
Dr. Aditya Sai is a renowned surgical orthopedic doctor practising in Mumbai. He has 15+ years of experience, with 10+ years of specialization in Shoulder Surgery, Knee & Hip Arthroscopy And Joint Preservation.
Types Of Treatments Offered By Dr. Aditya Sai
Dr. Aditya specializes in problems of shoulder, hip and knee. These are the following types of treatments that the doctor provides.
Frequently Asked Questions