Shoulder Surgery By The Best Shoulder Surgeon In India
Why Choose Dr. Aditya Sai?
Consultant Orthopedic Surgeon
Dr. Aditya Sai is a consultant in Orthopaedics specializing in Shoulder Surgery, Knee and Hip arthroscopy & Joint preservation Dr. Aditya has been trained in the best of the institutes in India as well as globally, with his MBBS from the Madras Medical College and MS in Orthopedics from Seth GS Medical College & KEM hospital, both amongst the top institutes in the country. He has undergone training in Hip arthroscopy and Joint preservation from the USA.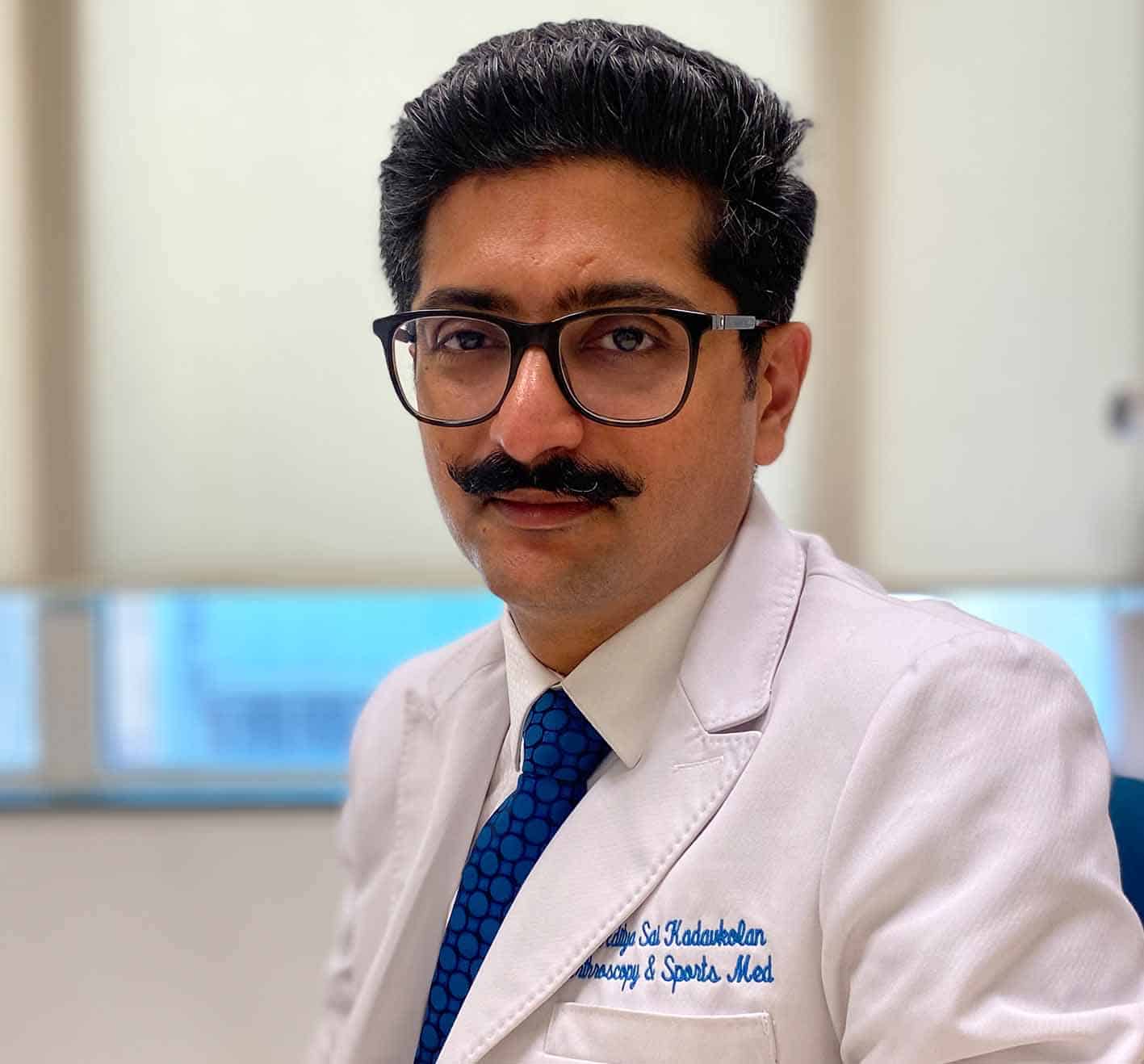 I had to go for shoulder surgery in India after my bike accident, as I couldn't move my shoulders without pain. It had even become difficult to perform my daily activities. So I checked for the most suitable doctor at the proximal location, and I came across Dr Aditya Sai, a recognized surgeon using world-class treatment techniques and technologies. He performed the surgery, and I am back to riding again.
Rohit Todi
I had to go for shoulder surgery and was really anxious about the shoulder surgery cost in India. I had heard from some of my friends who had undergone surgery that the cost of the total treatment can be really very high. Coming from a lower-middle-class family, I cannot afford very high prices. On looking for some of the affordable options, I came across Dr Sai, a well-known surgeon with affordable treatment options, went to him. Thanks to him, my surgery was a success.
Madhurima Kakoty
I wanted to opt for an arthroscopy as the treatment option utilizes modern techniques making it less risky compared to others. I was aware of the high arthroscopic shoulder surgery cost in India. One of my friends suggested to me the affordable arthroscopy provided by Dr Sai. I must say along with being the most economical option, the expertise and knowledge of the doctor helped me undergo the procedure without a glitch.
Bunty Pandey
My dad is doing so well now.. thanks to Dr. Aditya!! My family doctor, Even helped me with other problems... a Very kind and Super polite doctor, he provides the best bankart repair surgery in India!!
Sonali Verma
I would highly recommend Dr. Aditya to anybody who is looking for the best bankart repair surgery in India. Definitely, go for Dr. Aditya as he is the most humble and experienced person I've ever met.
Shivangi Jain
Wonderful doctor.. .. Very nice loving cooperative and humble human being...Eager to learn more to serve his patients better ...curious to add a spiritual touch to his skills... Did my bankart repair surgery and I can say he provides the best bankart repair surgery in India .. a Very good experience....All the blessings for more growth glory n grace.
Kalyani Hirani
If you are looking for bankart repair surgery in india then do visit Dr Aditya he gives you the best treatment and the staff is also very helpfull and cooperative very kind with us Dr Aditya helped us to understand the whole procedure
Sheetal Sharma
Dr Aditya is the best doctor for bankart repair surgery he provides the affordable best bankart repair surgery cost in india and he helped us understand the whole procedure very well.
Rishab Shetty
I haven't seen such a doctor in my life. Humble, perfect, and precise. I got my uncle's bankart repaired some time back. He got his life around. Fantastic team, superb doctor offering best bankart repair surgery cost in India.
Sahshi Tharoor
Dr Aditya is one of the most caring doctors I have had the pleasure of having. He's a highly persistent individual who truly thinks often about his patients. I would recommend Dr Aditya to anyone seeking bankart repair surgery costs in India.
Sanjana Singh
Dr Aditya is a skilled and brilliant surgeon who has been very helpful and supportive in all possible ways. I can't thank you enough for helping us, guiding us and for treating my mother. Also, the bankart repair surgery cost in India is affordable. I Highly recommend them!
Sana Singh
As I checked who provides the best arthroscopic bankart repair cost in India, I came across a shoulder and knee clinic. No Doubt they are the best. My procedure went very smooth and amazed by the results never thought I could move again. Highly recommended!
Yash Patil
Finally, I found a Doctor that knew what he was doing! My knee was a mess from a previous surgery and a complete ACL tear. Dr Aditya fixed me up. I received top-notch care from his team. The package for the surgery was also quite affordable as arthroscopic bankart repair cost in india is very costly. I wish I had gone to him first!! If you're in need of any kind of Ortho surgery, Dr Aditya is the man.
Samidha Gupta
I struggled with intense pain and had arthroscopic surgery but my expectations were far exceeded. From the first visit to the surgery and recovery after has been handled with such care and compassion. Normally arthroscopic bankart repair cost in india is very high but it is quite affordable in this clinic.
Divanshi Mahajan
I really like Dr Aditya's ability to explain the problem and give you options. He considers your opinion and thoughts to develop the best plan for you. He has always been very pleasant and easy for me to talk to. I would strongly recommend Dr. Aditya to anyone who needs an affordable bankart surgeon as this clinic offer the best package for arthroscopic bankart repair cost in india
Deepika Reddy
Dr Aditya always walks into a room with a smile. He answers questions in a way that makes me understand the issue and a plan to fix my pain. This clinic offers the best arthroscopic bankart repair cost in india. Even now, months after I had surgery and finished physical therapy, I can reach out to him with questions, and I always get an answer!
Anika Gala
Hear It From Our Patients!
What Patients Say About Dr. Aditya Sai
Siddharth Sonkamble
24/07/2023
Very fortunate to have come across Dr. Aditya Sai for my knee surgery. I had to undergo ACL Avulsion plus Meniscus repair surgery. Dr. Aditya is very confident and explained the procedure beforehand. Doctor also helped me thoroughly for postoperative care and rehab. Everything has been extremely smooth so far. Follow up visits are always very positive and comforting. Many thanks to Dr. Aditya Sai for helping me. Also, many thanks to Dr. Sagar for his continuous assistance during the surgery as well as the follow ups. Thanks to Rayan and team for making it a smooth experience throughout. I would strongly recommend Dr. Aditya Sai for any knee injuries.
My experience with Dr. Aditya Sai and their team was nothing short of exceptional. Their expertise, compassion and commitment to providing outstanding medical care make them a standout practitioner in their field. I wholeheartedly recommend Dr. Aditya Sai to anyone seeking top quality medical services and their approach to patient care truly sets them apart.
Dr Aditya Sai was really helpful. The best thing about him is that he makes the patient very comfortable during consultation, and explain things very well that leaves no room for any doubt. He was meticulous to have guided me on every part of the overall surgical, including pre-op and post-op procedures. I appreciate that he made the overall process very simple for me to go through, including all the administrative work.
Raj Sahani Official 472
06/07/2023
Well cleaned and feeling comfortable with all the staff
Great doctor and surgeon.
Doctor service: Highly knowledgeable and experience Dr's team for complete surgery and very much happy and satisfied with work till now in Hiranandani Hospital Powai Special Thanks to Dr Aditya Sai Kadavkolan : 100 out of 100 marks for his knowledge , experience , state of mind during surgery and vision of futuristic any concerns for surgery…Highly and strongly recommended this Dr Aditya Sai for knee surgery STONRGLY RECOMMENDED Dr Aditya Sai THANKS A TON !!! Dr for such wonderful journey with you of surgery , really it was went well and going well with wife. Extremally happy & lucky to have you and chosen you for my wife surgery of ACL reconstruction... Now words to thank you and your team!!!!!!!! You have saved my wife life and retained her dreams of dancer and sports person !!!!! Last but not least : Dr Sagar assistant to Dr Aditya Sai for excellent link between patient relative and Hospital and Desk and Surgery team and Dr Aditya Sai and Discharge desk etc , without him it would not have been possible such a pleasant surgery for my wife
I had torn my labrum because of which I was facing frequent shoulder dislocations and they were really painful. I decided to get it fixed because I am physically active and involved in sports. I visited Dr. Aditya, he explained me everything in great detail about the procedure. The surgery was a major one and went on for hours. He did the surgery brilliantly and after rehabilitation I started physical activities and there are no dislocations anymore. Thanks Dr. Aditya ????
I had undergone surgery for complex fracture fixation (left distal end radius fracture ) done by Dr Aditya Sai. He rightly advised and explained everything what's to be done. His friendly nature with professionalism give lot of comfort to me during surgery and recovery period. His staff was also good and even make a call post discharge from hospital for my well being . I'd like to thank him and all his staffs
aditya kumar anshu
02/04/2023
Dr. Aditya Sai is a brilliant doctor and gem of a person for sure. I underwent ACL reconstruction and meniscus repair for my right knee by him 3 months back. He explained the procedure in detail and very clearly before surgery although I had done fair amount of research myself but the best thing was he gave me confidence for it. His full team was supportive throughout the procedure and post surgery too. I have been in constant consultations with him for three months as he is monitoring my progress during physiotherapy. I am very happy to tell that my progress is very good. Hopefully I am expecting to join sports very soon. I highly recommend him to anyone and thanks his whole staff for taking a very good care of me. Aditya Anshu Suptdg. Geo scientist at ONGC Ltd.
My Mother had multiple fractures in Shoulder and had to undergo Shoulder replacement surgery.. We are happy with the way process was explained to us and guidance provided by the Doctor.
Dr. Aditya Sai is a renowned surgical orthopedic doctor practising in Mumbai. He has 15+ years of experience, with 10+ years of specialization in Shoulder Surgery, Knee & Hip Arthroscopy And Joint Preservation.
Types Of Treatments Offered By Dr. Aditya Sai
Dr. Aditya specializes in problems of shoulder, hip and knee. These are the following types of treatments that the doctor provides.
Frequently Asked Questions