Advanced Treatment At The Best Sports Injury Centre In Mumbai
Why Choose Dr. Aditya Sai?
Consultant Orthopedic Surgeon
Dr. Aditya Sai is a consultant in Orthopaedics specializing in Shoulder Surgery, Knee and Hip arthroscopy & Joint preservation Dr. Aditya has been trained in the best of the institutes in India as well as globally, with his MBBS from the Madras Medical College and MS in Orthopedics from Seth GS Medical College & KEM hospital, both amongst the top institutes in the country. He has undergone training in Hip arthroscopy and Joint preservation from the USA.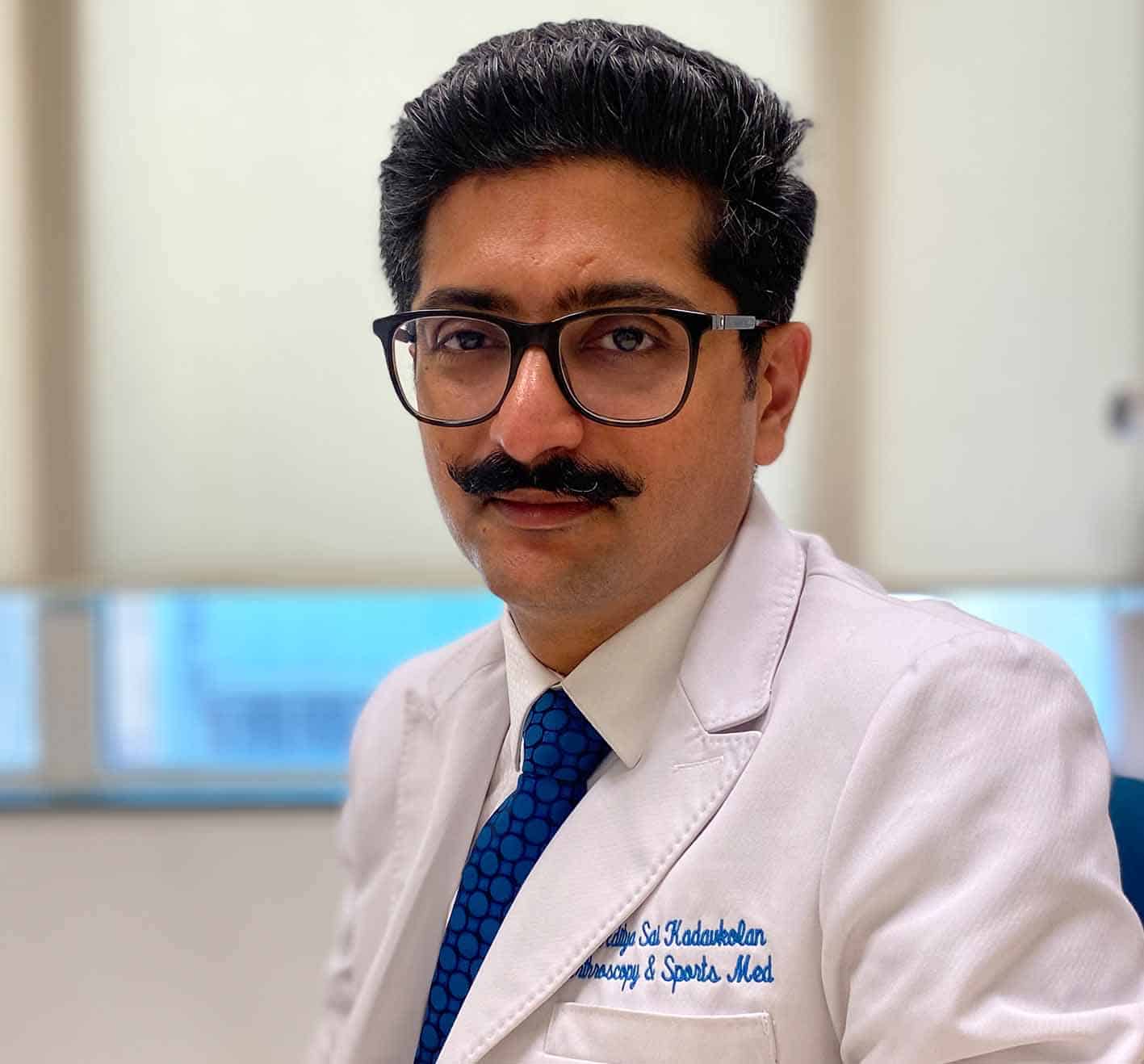 Book an appointment with us today
I am a basketball player, and during one of my tournaments, I hurt my knees. I depended on pain killers and medications to overcome the pain, but I realized that it was not a common injury. After searching for sports injuries treatment in Mumbai, I went to Dr Aditya Sai for my treatment, and that was the best decision of my life.
Rajat Lodha
I was looking for a sports injury centre in Mumbai online to treat my sore knee. I developed pain and stiffness in my knee region after sustaining a fall on the football field. I came across Dr Aditya Sai during my research and contacted him for treatment. I can feel the difference in my knee's condition after two sessions with him.
Pavitra Sharma
I was looking for a sports clinic in Mumbai for my brother. He is in the sports department in the school and always develops cuts and bruises while playing. We went to Dr Aditya Sai for the treatment, and my brother is doing well under his guidance.
Anushka Lohia
Dr. Aditya Sai eased the tension and pain that I had in my right leg for more than 6 weeks. He showed me a few exercises I could do in my spare time. I would definitely recommend you to visit this clinic. It is by far the best sports injury centre Mumbai
janvi savani
Last month I face an injury in my solder I search for sports injuries treatment in mumbai and got the info about Dr. Aditya Sai. I went to their clinic. The experience was great.
Balram
Dr. Aditya is one of the best sports clinics in Mumbai. My experience at Dr. Aditya's clinic was excellent. Special thanks to the doctor and his team. I highly recommend them to everyone.
Soumya Gupta
Thank you for sorting out my ankle and foots issues. I was promised success and it's happened. My foot is basically brand new one of the best sports injury centre in Mumbai. Highly recommended!
Raj Thakur
If you require sport injuries treatment in Mumbai, do not hesitate to go the Dr Aditya Sai from Shoulder And Knee Clinic. He is amazing at his work.
Roshan Ahuja
I was looking for a sports clinic Mumbai when I came across Dr. Aditya. He is a very professional doctor he listens to the issues of the patients seriously and takes action accordingly. The staff there is supportive.
Ahem Ahuja
If you are looking for one of the best sports injury centres in Mumbai, Please visit Dr. Aditya. My brother recently got done with his treatment from them and I must say the services they have provided to us are amazing. Highly recommended.
Suraj Rao
I had sports injuries treatment in Mumbai at Shoulder and Knee Clinic. The doctor helped me to understand the overall procedure. The pre and post support was excellent.
Shobit Shah
I have been in sports for the past few years now and I have been visiting Dr Aditya from that time for any injury or problem. He has the best sports clinic in Mumbai and I highly recommended you to visit them if you have any injury or problem caused due to sports.
Roger D'Silva
Great, professional service from the team at Dr. Aditya Sai's Clinic. They understand my knee injury but also work hard to understand me as a person and what I want to be able to achieve. I'm confident my rehab is in safe hands. Thats a reason this clinic is the best sports injury centre Mumbai.
Vikas Kashyap
I just wanna say Dr. Aditya and his staff/ nurses are extremely helpful and wonderful, they will call and check up on u and help u out in any way they can! I highly recommend this place if ur looking for a sports injury centre Mumbai.
Sanket Shah
My arms have been injured during my games and I visited the best sports injury centre Mumbai. Dr Aditya is highly experienced and is one of the best in his field. Trusting him for my treatment was the best thing I did. Thank you to the entire team.
Jatin Mehta
Dr Aditya has the best sports injury centre Mumbai with highly trained staff and clean hygienic place. I exprienced this when my son suffered a sports injury in a competition.
Sahil Deol
I wanted the most effective sports injury centre mumbai and my uncle suggested visiting Dr Aditya, as he is the better doctor in Mumbai and their employees are also perfectly experienced.
Pankaj Sharma
Looking for sports injury centre mumbai was difficult for me but one of my friend recommended me Dr Aditya Sai's clinic. He treats patients effectively and listen to patients issues carefully. The staff is very supportive. Recommended.
Abhishek Upmanyu
I consulted Dr. Aditya Sai for my sports injuries treatment in Mumbai. He is an expert in sports medicine and is super knowledgable in his field.
Juan Gupt
He has a clear-cut approach and doesn't advocate the philosophy of one shoe fits all. His treatments are customized for each patient and have the best sports clinic mumbai.
Mrunali Mahadik
It's been 4 years ago, I had a knee fracture and I visited Shoulder & Knee Clinic with my parents....There we met Dr. Aditya...He took my complete history of knee fracture....Also, he prescribed few medicines to take in order to heel the fracture...I am just happy & satisfied with their professional services... According to me Shoulder & Knee Clinic is considered as best sports clinic mumbai....Highly recommendable...
Prachi Gharat
Amazing phyiso and excellent service. Professional rehab sessions for ACL reconstruction. The overall recovery is great. I highly recommend Dr. Aditya for physiotherapy and sports massage, best Sports Clinic Mumbai
Muneeb Ahmed Khan
I went through a sports injury and had to search for a sports clinic Mumbai and I found Dr Aditya at the top. I was happy with my decision at performing my surgery there.
Rohit Shivdani
Hear It From Our Patients!
What People Say About Dr. Aditya Sai
Doctor service: Highly knowledgeable and experience Dr's team for complete surgery and very much happy and satisfied with work till now in Hiranandani Hospital PowaiSpecial Thanks to Dr Aditya Sai Kadavkolan : 100 out of 100 marks for his knowledge , experience , state of mind during surgery and vision of futuristic any concerns for surgery…Highly and strongly recommended this Dr Aditya Sai for knee surgerySTONRGLY RECOMMENDED Dr Aditya SaiTHANKS A TON !!! Dr for such wonderful journey with you of surgery , really it was went well and going well with wife.Extremally happy & lucky to have you and chosen you for my wife surgery of ACL reconstruction...Now words to thank you and your team!!!!!!!!You have saved my wife life and retained her dreams of dancer and sports person !!!!!Last but not least : Dr Sagar assistant to Dr Aditya Sai for excellent link between patient relative and Hospital and Desk and Surgery team and Dr Aditya Sai and Discharge desk etc , without him it would not have been possible such a pleasant surgery for my wife
I had torn my labrum because of which I was facing frequent shoulder dislocations and they were really painful. I decided to get it fixed because I am physically active and involved in sports.I visited Dr. Aditya, he explained me everything in great detail about the procedure. The surgery was a major one and went on for hours. He did the surgery brilliantly and after rehabilitation I started physical activities and there are no dislocations anymore. Thanks Dr. Aditya 😊
I had undergone surgery for complex fracture fixation (left distal end radius fracture ) done by Dr Aditya Sai. He rightly advised and explained everything what's to be done. His friendly nature with professionalism give lot of comfort to me during surgery and recovery period. His staff was also good and even make a call post discharge from hospital for my well being . I'd like to thank him and all his staffs
aditya kumar anshu
02/04/2023
Dr. Aditya Sai is a brilliant doctor and gem of a person for sure. I underwent ACL reconstruction and meniscus repair for my right knee by him 3 months back. He explained the procedure in detail and very clearly before surgery although I had done fair amount of research myself but the best thing was he gave me confidence for it. His full team was supportive throughout the procedure and post surgery too. I have been in constant consultations with him for three months as he is monitoring my progress during physiotherapy. I am very happy to tell that my progress is very good. Hopefully I am expecting to join sports very soon. I highly recommend him to anyone and thanks his whole staff for taking a very good care of me.Aditya Anshu Suptdg. Geo scientist at ONGC Ltd.
My Mother had multiple fractures in Shoulder and had to undergo Shoulder replacement surgery.. We are happy with the way process was explained to us and guidance provided by the Doctor.
I went through my ACL ad meniscus surgery few months ago ..it was four year past injury..was very broken in life.. thanks to Dr Aditya Sai who gave me confidence and repaired my knee and gave a new life..i recovered within two months..I bless dr.sai for his brotherly caring during my OPD visits and time of surgery...I highly recommend to all...GOD BLESS WITH SUCCESS AND PROPERTY TO HIM AND HIS FAMILY
Dr. Aditya Sai did a great job with my first ever surgery. He explained everything to me in a very clear manner. He was also kind and friendly. All of the staff was great – they were helpful and patient.They ensured I had a smooth prep, surgery, and follow-up. Not only has he taken great care of me, but also he is lovely to speak with at every appointment. It's been over 7 weeks post surgery and from last one week I'm able to walk without the support of walker. I was a bit nervous before the surgery,he gave me confidence and mental support after the surgery I was in pain but talking to him when he comes to visit was my favourite part. I'd highly recommend him to anyone. I'd like to thank him and all his staffs.❤️ Thank you
I wanted to take a moment to express my sincere appreciation for the exceptional care provided during my recent knee surgery. Dr Aditya Sai's expertise and dedication made all the difference in my successful outcome. I am so grateful for Dr Aditya Sai's caring and compassionate approach to my care. His willingness to listen to my concerns and answer my questions made me feel supported and reassured throughout the process I am now on the road to recovery and feeling better than ever. I truly believe that my successful outcome would not have been possible without his expertise and commitment to excellence. I will always be grateful for the care provided and will happily recommend Dr Aditya Sai's to others in need of an excellent orthopaedic surgeon.
I had visited Dr Aditya Sai for my ACL reconstruction and Meniscus Repair. I had visited numerous doctors in the Mumbai and Thane region but none could clear my doubts and provide me the confidence to proceed with the surgery until I met Dr Aditya and his team. Will always be grateful to him.
Dr. Aditya Sai is a renowned surgical orthopedic doctor practising in Mumbai. He has 15+ years of experience, with 10+ years of specialization in Shoulder Surgery, Knee & Hip Arthroscopy And Joint Preservation.
Types Of Treatments Offered By Dr. Aditya Sai
Dr. Aditya specializes in problems of shoulder, hip and knee. These are the following types of treatments that the doctor provides.
Frequently Asked Questions
Book an appointment with us today